Hungary's Prime Minister Viktor Orban has strongly defended his country against accusations of curbing press freedom. Speaking in the European Parliament on Wednesday he said he was "ready to fight."
Officially, the speech was on Hungary's plans for its period as rotating EU president, a position it took over at the beginning of the year.
Yet all attention was focused on the controversy over the country's controversial new media law - decried across Europe as a serious infringement of press freedom.
The new law has led to criticism also within Hungary
The Hungarian law has created a supervisory authority to monitor the country's media organizations with the power to impose substantial fines if coverage is found to be lacking in "balance" or respect for "human dignity."
The legislation has drawn sharp rebuke from across the EU with Germany, Britain and France being particularly outspoken.
At the start of Orban's speech in the Strasbourg parliament, some legislators covered their mouths with tape and held up banners criticizing the controversial law.
Brussels demands "clarificiation"
Orban urged his audience not to mix domestic politics with Hungary's six months of EU presidency. As for his country's aims during the presidency, he said that Budapest would put economic recovery of the 27-nation bloc at the heart of its tenure.
Speaking after Orban, EU commission head Jose Manuel Barroso said the commission would send a letter to the Hungarian government to demand "clarification" from Budapest.
But the international outcry and the pressure from Brussels have led Orban to concede he'd be willing to amend the law should the EU executive oblige him to do so - but only if the law can be proved to run counter to EU norms. In that case, he said, the laws of other countries should also come under examination.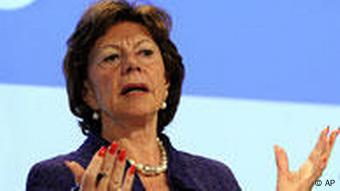 The EU's Kroes is among the critics of the legislation
Earlier this week, the EU's Digital Affairs Commissioner Neelie Kroes, who is overseeing an investigation into the law, warned the legislation could be in conflict with the bloc's broadcasting rules.
The requirement for "balanced" news was not sufficiently clear, Kroes said. There were "concerns about both the clarity of the rule, which may leave too much discretion in individual cases, and about the lack of limiting criteria, which could lead to a problem of proportionality in the regulation of media freedom."
The law has also led to protests and demonstrations across Hungary, both from the general public and the country's journalists.
Author: Andreas Illmer (AFP, dpa, Reuters)
Editor: Michael Lawton