A crowd estimated at between 3,000 and 4,000 gathered outside Hungary's parliament on Sunday, calling for Prime Minister Viktor Orban's government to respect its Western ties. Many waved European Union flags, urging Hungary's government to remain in the EU fold and to keep its distance from Russia.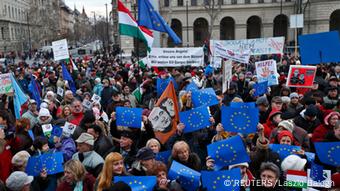 Orban's government is waning in popularity, despite its massive parliamentary majority
Their protests were timed to precede German Chancellor Angela Merkel's visit for talks with Orban on Monday, itself coming just two weeks before a visit from Russian President Vladimir Putin.
"Frau Merkel, save Hungary!," said one sign written in German at the Budapest rally. Another, also in German, paraphrased a popular prayer: "Our Angela, deliver us from evil, we want to remain EU citizens."
Smaller, parallel rallies were held simultaneously in 11 other Hungarian towns, as well as six European cities, including London and Amsterdam.
Rights groups, including Germany's Amnesty International office and Reporters Without Borders, issued appeals to Merkel prior to her departure. Amnesty warned of "indications of a witch hunt" against NGOs operating in Hungary, while Reporters Without Borders urged Merkel to raise freedom of expression concerns with Orban.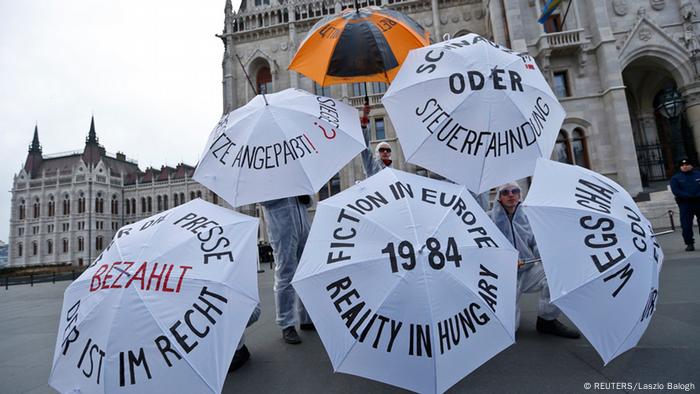 Don't speak Hungarian? No problem! The protesters prepared for some international attention
It's Merkel's first visit to Budapest since Orban's contentious government took office in 2010.
Important relationship, but not without friction
Ahead of the visit, a spokesman for the German foreign ministry said simply that Germany's "relationship with Hungary is important to us," saying that Berlin "wants to nurture it." However, he acknowledged that differences of opinion remained, as with any country. Asked about Russia, he said that Hungary - along with the other 27 EU members - had allowed Europe to act as one in response to the conflict in Ukraine. EU sanctions require unanimous approval in order for the bloc to implement them.
Germany is Hungary's largest trading partner and Fidesz and Merkel's Christian Democrats are a part of the same right-leaning coalition in the European Parliament.
Clear-cut landscape in parliament
Victor Orban's right-wing Fidesz party won a massive majority, 133 of 196 seats, during parliamentary elections in Hungary last year. Helped by weak opposition, Fidesz won in 2010 by a similarly comfortable margin.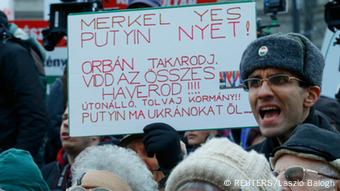 After Merkel, Vladimir Putin will be visiting the government in Budapest
Already on notice in Brussels after years of reforms to the country's legal system, domestic media and political system - with critics saying the changes don't conform with EU rules - the Orban government's closer ties with Russia have raised further questions during the conflict in Ukraine.
"We dislike the directed democracy, the kind of dictatorship Putin has built in Russia. And this is the direction in which the Orban government is going," protester Jozsef Bruck said. "European politicians look away, and they can do that because their voters don't care. We are trying to change that."
Orban has led the Fidesz party for most of its 27-year history.
msh/gsw (AFP, AP, dpa, Reuters)