After a decade-long hiatus, Sophia Loren is back in a performance that's bowling over critics and Netflix subscribers alike: In nearly 40 countries, The Life Ahead has shot to the top 10 in its first week.
The script and direction of the Italian film were the work of Sophia Loren's youngest son, Edoardo Ponti.
Edoardo's father, film director Carlo Ponti, discovered Sophia in Rome in 1950 and, recognizing Loren's talent, pushed her to do acting classes.
Loren became a screen icon with sex appeal and went on to make over 100 films with the greatest Hollywood stars. Loren and Ponti married when she returned from Hollywood in 1957 and were together until Ponti died in 2007.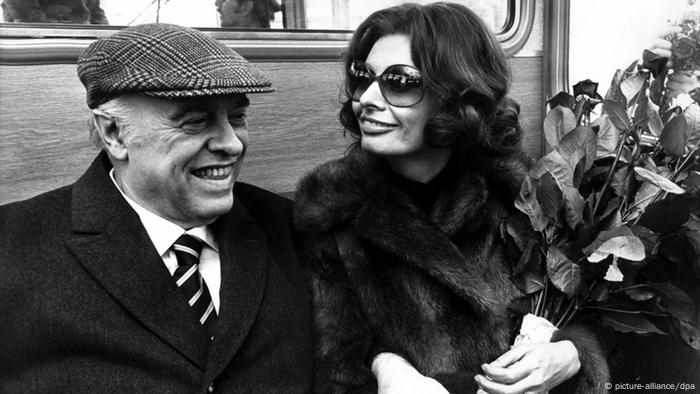 Carlo Ponti and Sophia Loren were together for 50 years
A family business and a special relationship
It's been 10 years since the screen diva last made a film, and even longer since her last leading role. Her last Oscar nomination was in 1964.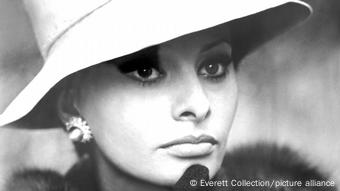 By the 1960s, Sophia Loren had become an international symbol of glamour
It's not as if she had a shortage of screenplays to choose from. She says she was just waiting for the right role to come along. Her son Edoardo talked her into the role, and the film was shot in the late summer of 2019, in the southern harbor city of Bari.
It's the third film they've made together, and in an interview with CBS News, Ponti said he loves every day he can work with his mother.
"Every day. Every take. Every moment. And it's beautiful, because she still approaches it with the same anxiety, the same spontaneity, the same passion as if was her first film."
"Yes, yes, yes, I know myself he's right, he knows me," Loren replied, laughing.
She joked when asked who was the boss on set, and admitted it was always her son. But she spoke of a special communication between the two in their work.
And that relationship has enabled her to play the role of her life.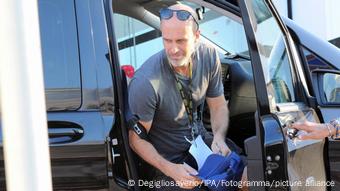 Edoardo Ponti on the set of 'The Life Ahead' in Bari, 2019
Loren said her character, Madame Rosa, reminded her of her own mother in the squalor of postwar Naples.
"My mother was absolutely like that," she said, "Inside she was very fragile, but she looked strong."
Change of scene gives new adaptation a sense of immediacy
The screenplay is based on the 1975 novel La Vie Devant Soi by Romain Gary. It's set in Paris, and has been adapted to film previously, in 1977. But Ponti decided to change the setting for the southern Italian city of Bari, where the immigration crisis lends the story a sense of immediacy.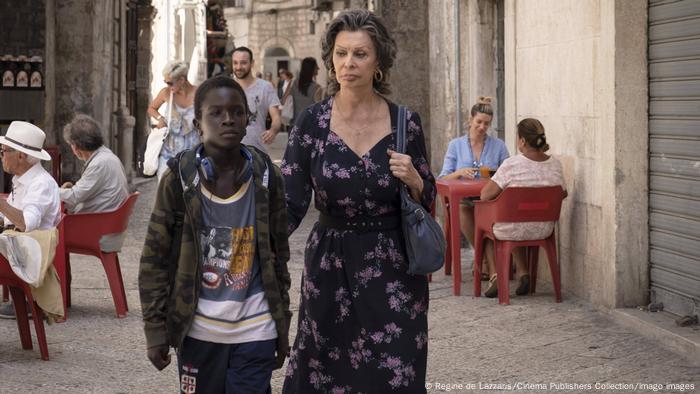 Ibrahima Gueye and Sophia Loren in a scene from 'The Life Ahead'
Ponti tells the story from the perspective of a young Muslim refugee, who is stranded in Italy. Mohammmed, a 12-year-old orphan from Senegal, survives by stealing and dealing drugs. Momo's guardian, Dr Coen, hands him over to Madame Rosa, saying he doesn't have the energy to look after him. The relationship starts off rocky, but they soon become attached to one another, after Momo discovers that Madame Rosa was a concentration camp survivor.
Oscar-worthy performance as Auschwitz survivor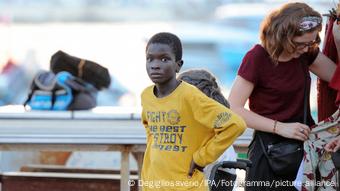 Ibrahima Gueye: a talented young actor in his first major role.
Madame Rosa is a former prostitute, who now cares for the children of Bari's sex-workers — their mothers have no time for their unwanted offspring. Loren said she drew on her own impoverished childhood to bring an extra layer of emotion to the role.
Renowned as a glamorous diva since the 1950s, Italy's most famous film star uses the highest acting skills to lend this survivor of the Nazi Holocaust pathos and dignity. With this role, Sophia Loren is a hot tip for an Oscar nomination.
Ibrahima Gueye, in his first feature film role, brings a sensitivity and naturalness to the character which point to the beginnings of an important acting career.
This article was translated from German by Carl Holm.