Silas Wamangituka says he is actually Silas Katompa Mvumpa. He is 22-years old, not 21.
Mvumpa's club, Stuttgart, announced in a statement on Tuesday that their striker had recently revealed the information to them, saying that he was a victim of fraudulent practices by his former agent.
Alleged agent malfeasance
Mvumpa had a tryout with Belgian side Anderlecht in 2017 and he says he was pressured to move to Paris by his former representative. Mvumpa's agent allowed the young player to live with him in Paris and, according to Mvumpa, also changed his name and date of birth. Mvumpa joined Stuttgart in 2019 from French second-division side Paris FC.
Stuttgart believe the agent altered Mvumpa's identity to help Mvumpa break ties with his old club in the Democratic Republic of Congo, Mvumpa's home country, and also to increase the young player's dependence on the agent.
Mvumpa not the first
The allegations against an agent exploiting a young African player in Europe are not new.
Kenya international Johanna Omolo, who spent the past season with Turkish side BB Erzurumspor, says, unscrupulous player representatives have targeted hundreds of young African footballers.
"It's the lack of of knowledge when a player comes from Africa to to Europe," Omolo told DW. Some agents "take advantage that the the players from Africa, they don't know the system, how it works."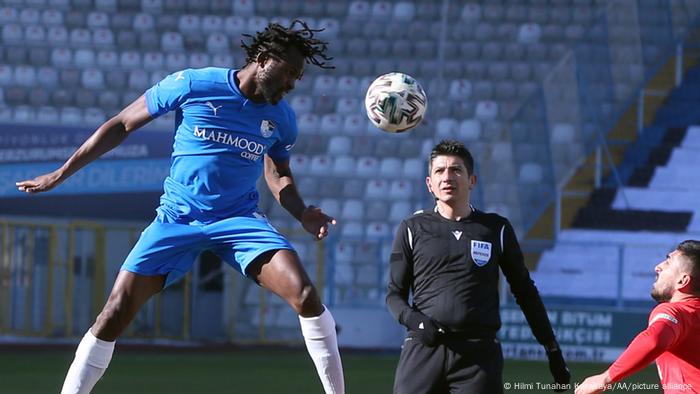 Kenyan international Johanna Omolo runs a foundation for young African players
"Since I've been a kid, we've been sold this idea of if you want to be a professional football player, if you want to achieve your dreams, you only have to come to Europe," added Omolo, who has established a foundation to assist African youth. "And that leads to led to many of us just rushing to Europe."
Omolo says he is aware of hundreds of players lured to Europe from Africa, most of whom do not make it with top-tier clubs. He encourages young players to stay closer to home.
Stuttgart step up

In a statement posted on the club's website, Stuttgart management said, "With the support of Stuttgart and a new agent, Silas has been working intensively on clearing up the situation and finally received the corresponding official documentation from Democratic Republic of Congo a few days ago."
The club's statement adds that Mvumpa "wants to disclose all details of the manner in which his false identity and personal data have been registered with German authorities." (EN): Stuttgart strike...
"It was a tough step for me to take to make my story public," Mvumpa said, "and I would never have had the courage to do so if Stuttgart, my team and [the city of] Stuttgart had not become like a second home and a safe place to me."
Stuttgart said they were fully behind Mvumpa and had the name of the player agent in question.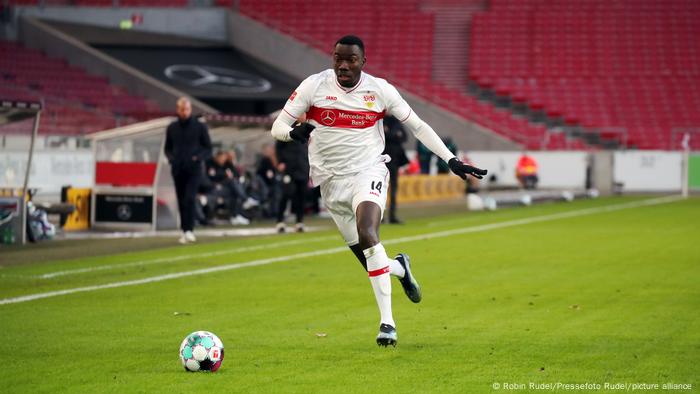 Silas scored 13 goals in 27 matches for Stuttgart this past season
"We took all measures immediately and alerted all necessary authorities after Silas told us," the club's head of sport, Thomas Hitzlsperger said.
Mvumpa, who scored 13 goals in 27 games last season as Stuttgart finished ninth in the Bundesliga said he had lived "in constant fear for the last few years and have also been very worried about my family in Congo."
DFB probe launched
Stuttgart say they are in contact with the German Football League (DFL) and the German Football Association (DFB) about the matter and that they don't fear any consequences for the player.
The DFB announced on Tuesday that it has launched a probe into the matter. The association's regulatory committee "will review the matter with regard to possible misconduct by the player under sports criminal law," committee chairman Anton Nachreiner said.
After a legal assessment of the facts, Stuttgart say they believe "that Silas was and still is in possession of a valid playing license." Stuttgart also expect Mvumpa to receive a new playing permit with his real identity. He already has a new passport.
"We've made this case public to underline that we are proceeding in a transparent way," Hitzlsperger said.