DW: You launched the festival 30 years ago, and actually stood on stage with your band Skyline back then. Did you ever imagine in your wildest dreams Wacken Open Air would become what it is today?
Thomas Jensen: No way. We never had a master plan and actually, we still don't have one today. We never dared dream we would survive for very long in the music industry. We felt it would be nice if we could stage the festival every then and again. We can't give the fans enough credit for the gift they gave us, for letting us do this.
Do you remember what it was like in 1990?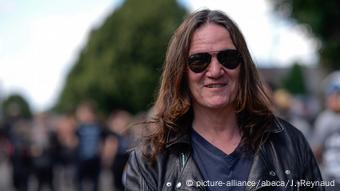 Wacken Open Air co-founder, Thomas Jensen
Where we are standing right now is a historic place — the stage was back there, and right here, what we today call the "Artists' Village," was the site of our first campground. It all started in the Wacken municipality's gravel pit. The party tent was over here, to the right. We always planned for different stages that alternate acts, aiming for a manner of Bill Haley's "Rock Around the Clock."
What gave you the idea to start a festival in the first place?
Back then, there simply was no such thing, and our music was sadly underepresented. Lübeck Open Air already existed, that was pretty good and had acts like Judas Priest and Santana. But we wanted more dynamism, we wanted to celebrate our kind of music round the clock and for at least two days, including the camping experience.
How has the festival developed since then?
It's still rock'n'roll, with a good bit of craziness. We still make mistakes, and we like to try out new concepts. Other than that, it is bigger and more professional. We were able to fulfill our dream of inviting many of the artists my co-founder Holger Hübner and I really liked back in 1990.
Waiting for Metallica
What are the highlights this year?
There is no end of highlights, it's "only killers, no fillers," really emotional stuff. Rock'n'roll bands that have added enormously to the music scene over the past two or three years, like Rose Tattoo and Sabaton. I'm pleased that we have a lot of young bands like The Wild! And The New Roses.
Why have you never managed to book Metallica?
Well, Lars [Metallica drummer Lars Ulrich, ed.] did say they would play here one day. We are patient.
What makes Wacken different from other festivals?
Wacken can only take place in Wacken, the place we grew up. Then, there is this symbiosis between the village and the fans, we respect and like one another and together, we celebrate a huge party. The fans don't simply consume the festival, they shape it to a large part — it is their own festival. Some say they have been coming here for 30 years; we have a lot of regulars.
Thirty years of Wacken — isn't the festival getting old, maybe even boring?
Not at all. Quite a few of our young fans were conceived here, and they proudly proclaim that fact to all the world with t-shirts that read "Made in Wacken." Our audience spans three, maybe even four generations. We want to continue, the village wants to continue and so do the fans. We haven't reached the end of our journey through the metal universe. To me, it feels like the metal train just left the station. Let's see where we are headed!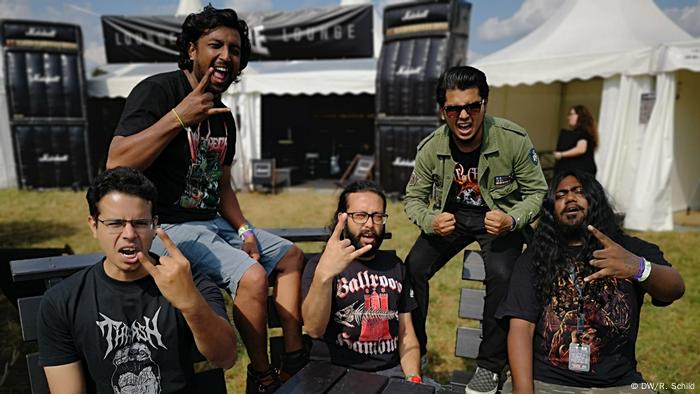 The band Trainwreck from Bangladesh is participating in the 'Metal Battle' competition
How important is inviting bands from countries like Bangladesh and Lebanon to join the Metal Battle?
The Metal Battle shows where metal music is played, and that includes areas of conflict and war, where making music is a very different statement than it is here in Germany. It is awesome if we can offer them a stage, in particular to people from countries you would not expect at Wacken. This year, we managed to get Doch Chkae from Cambodia to come to Wacken, after German authorities refused them visas last year.
Some people claim that metal is terribly conservative. Is metal over with, a thing of the past?
I'd say the music is constantly evolving. It's difficult to describe in two sentences, you have to be thee. It's all just noise to people who don't understand it anyway.
Thomas Jensen is managing director of the Wacken Festival.