One factory per district, free secondary education, more investments from abroad, curbing corruption: Nana Akufo-Addo promised Ghanaian voters a lot during his 2016 election campaign.
He was running for president for the third time - and this time, 53 percent of voters decided to choose him over incumbent president John Dramani Mahama.
Many who voted for him wanted real change. Ghana had been hit with a crisis: Economic growth had slowed down to just 3.6 percent; inflation and unemployment rates were rising. More and more young people were leaving Ghana and going abroad.
A presidential candidate who promised jobs and investment in farming, industries and education was just what people thought they needed.
Read more: Meet Ghana's new president, Nana Akufo-Addo
Although Ghana did impress the international community with its fourth peaceful transition of power, the country was slow when it came to real change. Akufo-Addo had to first assemble his team which took about half a year.
Working hard to make good on promises
Since then, the government has been working hard to make good on its promises. Education in government-run secondary schools, for instance, has been free since September. A new role of a special prosecutor was created to clamp down on corruption. And the ambitious projects of building dams and factories are on track, too, according to the government.
But the actual implementation of several projects was hit by a few setbacks. Schools were not prepared for the huge swaths of students - they were lacking teaching materials and qualified teachers as well as essentials like desks and chairs.
It's also unclear what kind of authority the new anti-corruption investigator is supposed to have and to whom he or she would be reporting to.
The post has also not been filled yet.
And funding for the government's infrastructure projects has not been finalized, either.
The government has so far planned to evaluate about 200 locations by 2018.
However, Kwabena Twum Nuama, a leading member of Akufo-Addo's ruling New Patriotic Party (NPP), says the president has accomplished a lot in just under a year.
He said one factory had already been launched and more were to come.
"We still have three more years to go," he told DW. "I know there are still some steps being taken and rolled out," he added.
"The minister for trade indicated that some districts have already been pencilled for them to start."
High expectations
Political analyst Kwame Danso Acheampong says Akufo-Addo would have to do more in the coming months to fulfill the high expectations among Ghanaians.
"If you look at the passion towards the fight against corruption, you will come to the conclusion that a lot of it has remained rhetoric," he told DW.
On the streets of Ghana's capital Accra, reactions are mixed.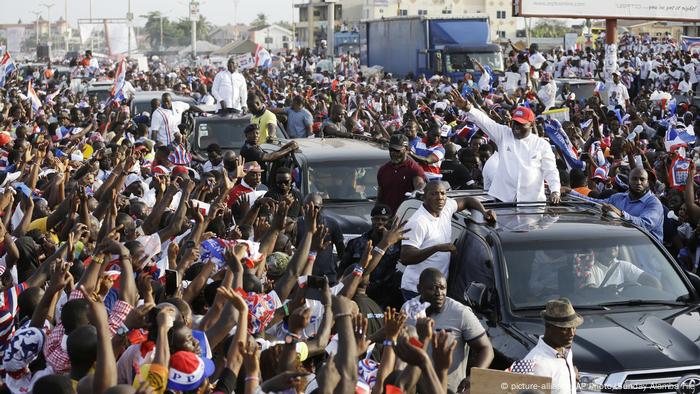 Akufo-Addo waves to his supporters during an election rally - expectations are high
"There are certain things he promised and I think he is fulfilling some of them," said Dorothy Nyarko. She believes Akufo-Addo will do even more for the people of Ghana in the future.
"I have seen one or two policies he has implemented," said Accra resident Seth Opoku. "If he can do something about the fuel prices… it's sky-rocketing. With corruption I think it's not something that can be uprooted right now."
The slow development doesn't come as a surprise to Burkhardt Hellemann who heads the German Konrad Adenauer Foundation in Ghana. The foundation is affiliated with Chancellor Angela Merkel's Christian Democratic Union (CDU).
"I think the government started with a lot of power, energy and good will," he told DW. But after eight years of opposition, Akufo-Addo and his NPP colleagues had now come to realize that it's not so easy to govern after all.
Akufo-Addo needs investments from abroad
Even though people had overwhelmingly seen the government's quick action in the realm of education as positive, the authorities still had to pay attention to proper fine tuning and funding, Hellemann added.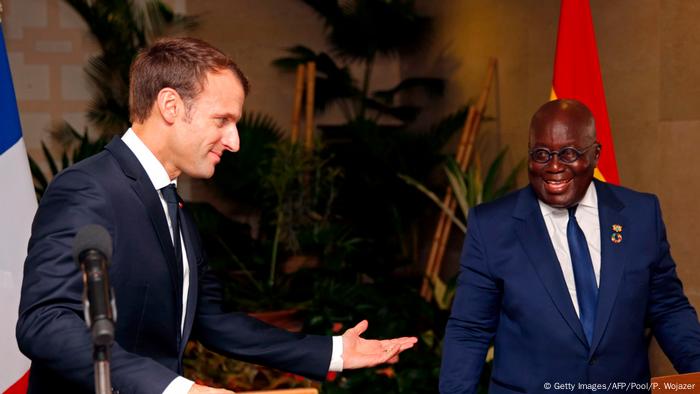 Akufo-Addo (right) wants funding from abroad - he stressed that as well when meeting with French President Macron
For the moment, funding was sufficient, but it remains to be seen in the next few years how Ghana's state budget could be put on firm footing. Akufo-Addo has taken over a debt crisis from his predecessor which could cast a shadow over his term.
His solution: Generating more tax revenue by pushing for more economic growth. That should come through more private investments from abroad. Akufo-Addo has stressed this again and again, most recently when meeting with French President Emmanuel Macron last week.
But foreign investors are still reserved. Hellemann believes Ghana needs to develop a coherent business concept in order to attract international companies.
"At the moment it unfortunately doesn't look like the Ghanaian government is putting too much effort into this," he added.
But in order to cut down youth unemployment, there is no other way for Ghana than to get national and international companies on board.
Isaac Kaledzi in Accra contributed to this article.