Muhammad Iqbal (pictured above) is a 44-year-old laborer hailing from eastern Pakistan. He wants to play kabaddi, a wrestling-like traditional sport in South Asia, but his deteriorating health does not allow him to indulge in any activity that is physically straining. A former brick kiln worker, Iqbal is now unable to lift heavy stuff.
He was not always so enervated. A wrong decision in 2012 changed his life for the worse. Iqbal regrets making that decision.
"In 2012, I was heavily indebted," Iqbal, a father of eight children, told DW.
"I was living in a village near Lahore and working at a brick kiln factory. I had borrowed 135,000 Pakistani rupees (€1,603, $1,856) from the kiln owner. I was working round the clock to pay back the loan, but with my meagre salary, I could hardly make both ends meet, let alone repay the loan," Iqbal said.
"I was so desperate that I was ready to do anything to get some money," a teary Iqbal told DW. "At the time, my cousin Ashraf came up with an idea — he asked me to sell my kidney and repay the loan."
"It sent a shiver down my spine, but knowing that I had no other way to repay the loan, I told my cousin that I would give the idea a second thought.
"Ashraf rolled up his shirt, showing me the operation marks after the removal of his kidney," Iqbal continued.
"He told me I could easily live with one kidney and the operation is not very complicated," Iqbal said, adding that he was scared that he could lose his life during the surgery.
Read more: Pakistanis trade kidneys for cash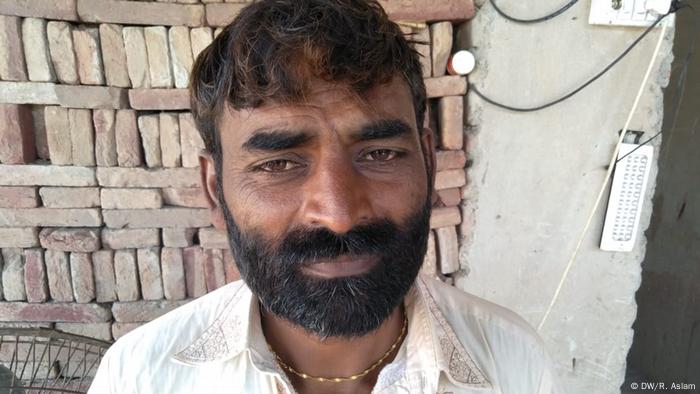 Iqbal regrets selling his kidney, as he can no longer work as brick kiln laborer
A journey to Rawalpindi
Once Iqbal gave his cousin a green light, Ashraf arranged his meeting with Faqir Hussain, a Lahore resident involved in kidney sale.
Several media reports point to a growing racket of kidney sellers across the country, especially in Punjab province. In the past few years, police have arrested several people who are involved in running this illegal business.
"Hussain offered me 130,000 rupees (€1,544). When I demanded more money, he raised it to 160,000 rupees," Iqbal said.
"First, I was taken to a place in Lahore where they conducted my blood tests and took my X-rays. I was told that it was necessary to make sure that I did not have any major disease," Iqbal added.
Iqbal was later asked to travel to Rawalpindi, a city near the capital Islamabad.
"I don't remember the date but I'm sure it was the winter of 2012. We were 19 or more people. We boarded a bus in Lahore and reached Rawalpindi in the wee hours. There we were picked up by drivers who had been in touch with us on the phone. We were taken to a clinic near the Grand Trunk road. The clinic was owned by Faqir Hussain."
Read more: Krishna Kumari — From bonded laborer to Pakistan's first lower caste Hindu senator
Iqbal said Hussain treated him gently. "We were told to take shower and have food but asked not to eat again for several hours so that more medical tests could be conducted," Iqbal narrated.
"We stayed there for 15 days. They turned away a few people as their tests showed their kidneys could not be removed."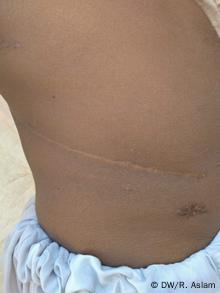 Iqbal can no longer lift heavy stuff
In Pakistan, the illegal business of organ "donation" is done secretively. Iqbal said the place where his kidney was removed was actually an eye hospital.
"But they had set up a modern facility for kidney surgeries in the basement of the eye hospital," Iqbal said.
Iqbal told DW that people involved in the business make sure the organ donors don't sue them later so they make them sign an affidavit.
"The operation began at 10 am. I was anesthetized. I woke up the next morning. After the surgery, they gave me money and I was allowed to leave the hospital and go home."
Read more: Christian couple beaten to death in Pakistan for 'blasphemy'
Where is the government?
Iqbal said the kidney donation did not solve all of his financial problems.
"Out of 160,000 rupees, I had to spend around 30,000 rupees on my post-surgery medicines. So I had to sell my rickshaw and combined it with the kidney money to repay my loan," Iqbal said.
"But the loans started piling up again. Due to my health situation, I had to give up on the brick kiln work. Now I am an irregular laborer because I cannot work the entire month. Two of my daughters, aged 13 and 12, started working in Lahore as full-time maids. They earn around 13,000 rupees per month."
Iqbal said he regrets selling his kidney.
"I appeal to the government that it nabs these rackets and also takes measures to help brick kiln laborers, who are so poor that they find no other way than selling their body organs in order to survive," Iqbal underlined.
"The authorities must help us, write off our loans and force the factory owners to increase our wages so that brick kiln workers do not fall prey to kidney selling gangs."
Read more: India's child labor bill criticized by rights groups