While it failed to snag any of the festival prizes, "Toni Erdmann"was the critics' favorite at last year's installment of the Cannes Film Festival, where it began its long journey to worldwide acclaim, culminating in an Oscar nomination for best foreign language film and five European Film Awards.
This year, Germany has a robust showing at Cannes, including a competition slot for Fatih Akin, who will present his new thriller, "In the Fade," later this week. It seems safe to say that Akin's Hamburg-set terrorism drama is the most eagerly awaited film remaining to be screened.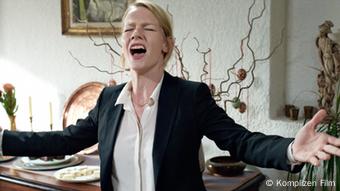 "Tony Erdmann" didn't score at Cannes, but racked up a slew of other prizes
"In the Fade" is the German-Turkish director's first time back to the Croisette in a decade, after "The Edge of Heaven," which won the festival's prize for best screenplay in 2007. Valeska Grisebach's "Western," screening in the Cannes sidebar Un Certain Regard, is the second German production in the festival's official selection.
Subtle approach to politics this year
Additionally, there are five German co-productions vying for the Palme d'Or, including some of the festival's best-reviewed films so far: Michael Haneke's French-language "Happy End," Russian director Andrey Zvyagintsev's "Loveless," Ruben Östlund's Swedish art world satire "The Square," and the Hungarian refugee fantasy "Jupiter's Moon" by Kornél Mundruczó.
- Opinion: The showdown between Netflix and Cannes
- 70 years of Cannes jury members
- German government to double film subsidies
Speaking at the German cocktail party on Saturday night at the Villa Rothschild, German Minister of Culture Monika Grütters expressed pride over Germany's showing at this year's installment.
"After 'Toni Erdmann,' we are glad to have another great women director," she said, referring to Grisebach, whose film follows a group of German construction workers in Bulgaria and their strained relations with the locals.
While not overtly political in the way that Akin's film promises to be, "Western"engages subtly with political issues in a manner typical of many of this year's films.
"I think the western genre is a very conservative genre, but also a very modern genre," Grisebach explained between drags on her cigarette. "It always deals with questions about society, how you place yourself in a society, if you play by the rules, the question of empathy and the rule of force," the director continued.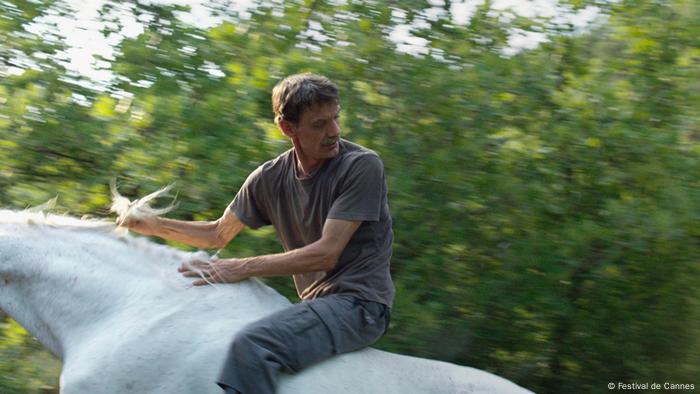 "Western" traces German construction workers in Bulgaria
German film boosted at home and abroad
Expressing admiration for the film, Grütters called it an excellent example of German "Autorenkino" (auteur cinema).
"Germany is very important on the political scale in terms of global perspectives. That also makes German film important because the film tells the political and current social stories," she explained. Citing recent increases in government subsidies for film, Grütters said such support is crucial as German film becomes increasingly prominent on an international level.
"These budget increases help remove restrictions for filmmakers. On the other hand, big international companies can come and make their films in Germany and big German productions don't need to look for places to film outside of Germany. I think these were two very important signals to filmmakers," she said.
Diane Kruger's first German-language film
Fatih Akin's film stars German-born Hollywood starlet Diane Kruger as a woman who loses her husband and son in a terror attack (top picture). Somewhat surprisingly, this is Kruger's first time making a film in her native language.
Asked whether he felt, as a director, that the film landscape in Germany had changed since "Toni Erdmann," Akin answered without hesitation. "Definitely yes," he practically shouted. "Maren Ade's impact here was huge and she created interest worldwide in German films. Before her, it was more limited to individual filmmakers, but now the interest is certainly more general."
Akin's best-known film remains "Head On," which won him a Golden Bear at the 2004 Berlinale film festival. So wow does Cannes stack up against Berlin? "The weather is better here," he said with a laugh.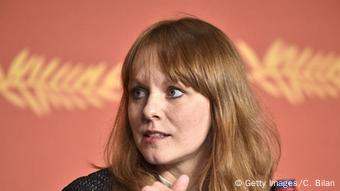 German filmmaker Maren Ade is in the 2017 Cannes jury
"I think Cannes has always been a place with a big interest in the question of what contemporary cinema is," added Grisebach, whose second film "Désir(s)"premiered in competition at the 2006 Berlinale. "It's very intense. There's a lot respect for directors and for film history, but the point is always about what cinema is now. You feel it in every talk, every interview. You feel it in the audience."
Grisebach is one of 12 female directors presenting their work at the festival, which has repeatedly come under attack for underrepresenting women filmmakers. With that it mind, it seems particularly remarkable that to have female directors representing Germany in Cannes two years in a row.
Ade brought German film to the world
Ade is back in Cannes as well, this year as a member of Pedro Almodóvar's international jury. Along with Will Smith, Jessica Chastain and Paolo Sorrentino, she will help judge the 19 films competing for the Palme d'Or, among them Haneke's "Happy End," a current favorite, and Akin's as-yet-unseen revenge drama.
While "Toni Erdmann"walked away empty-handed from Cannes last year, Ade's invitation to the prestigious nine-member jury looks a lot like a ringing endorsement from the festival and its director Thierry Fremaux.
As Grütters put it, "Maren Ade and 'Toni Erdmann' showed the whole world what German films are able to do."