The last few weeks have shown, if there was any doubt, that Europe faces a high and continued risk from Islamist terrorist violence. Over the course of a fortnight in July, a lorry driver mowed into a crowd in Nice, killing 84 people; a man with an ax hacked passengers on a train in Würzburg; a man blew himself up in Ansbach; and two gunmen stormed a church in Normandy, killing a priest. All of the attackers claimed their actions were inspired by the self-styled "Islamic State" (IS).
"The overriding emotion at the moment is shock in Germany," said Daniel Heinke, director of Policy Planning Staff and Special Affairs Directorate at the Ministry of the Interior in Bremen.
"Over the past five years, there were several plots thwarted by security agencies. Now experiencing these sort of attacks, especially the first suicide bombing in a German context in Ansbach, is raising the question: what do we have to do differently? We as security officials have the difficult task of explaining to the population that we do not see the necessity to do something differently. We just have to carry on."
Heinke is in London for a conference on IS in Europe, convened by the International Centre for the Study of Radicalization (ICSR) at King's College. The conference is examining why individuals in Europe are motivated to carry out acts of violence, the methods used by IS to recruit and direct individuals, and how European states can better cooperate and coordinate their counterterrorism efforts. Heinke has been responsible for the interagency coordination of counterterrorism affairs for four years, so he is well aware of the policy challenge posed.
'IS strategy to increase pressure'
"What we are seeing at the moment is a surge of IS-inspired terrorism in Western countries which is part of an overall strategy to increase the pressure on Western security services," he said. "Once you experience these minor attacks nearly every week, the security agencies come under tremendous pressure. Then the possibility arises that they overlook some major plot. I think there's a multipronged approach: minor incidents plus the planning for a major attack."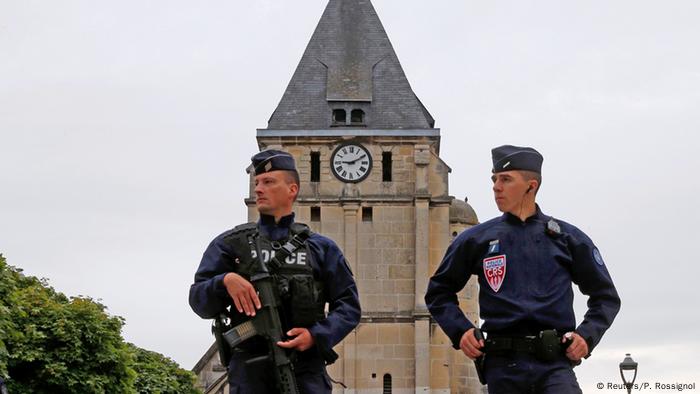 Assailants linked to IS killed a priest and seriously wounded a hostage in a church in France this week
He points out that although most of the European attackers have been described as "lone wolves" in the media, most in fact have had some degree of interaction with IS, meaning they are not lone wolves in the classic sense. That's why a full criminal investigation is crucial even when the attacker has been killed.
Heightened threats
Germany, France, Belgium, and the UK are among the largest contributors of foreign fighters to the Syrian conflict, and as such are broadly accepted to face a larger threat of terrorist violence than other European countries. Given the heightened threat level, cooperation on law enforcement and intelligence between European states is necessary - but this has not always been easy.
In 2014, Europol launched a project to store information about thousands of people suspected of traveling across borders to engage in terrorism - including foreign fighters in Syria and Iraq. It proved highly useful, but there is squeamishness amongst EU member states about extending its remit into intelligence gathering, and Europol's primary interface is with police forces rather than intelligence agencies. Given that many of the attackers in France, Belgium, and Germany were already known to police, this has the capacity to be highly useful - but it is not the whole story.
"Where we definitely have to work harder to increase cooperation is in the field of domestic intelligence," Heinke said. "Traditionally intelligence services tend to keep to themselves due to the sensitive nature of the data handled. There is cooperation between agencies, but in most of the cases it's on a bilateral basis, one service talking to the other - and what we have to [do] is to establish information hubs for all those to cooperate."
Brexit fallout?
With the conference on IS and European strategies against it hosted in London soon after the Brexit vote, there are inevitably questions about the potential impact of Britain's exit from the EU.
"I think I speak for all the security officials in this area: we sure hope there is no major implication," Heinke said. "All countries involved, both Britain and the remaining EU states, should work very closely to establish a framework that guarantees that we still have strong ties within the security area. It would be disastrous to lose these contacts."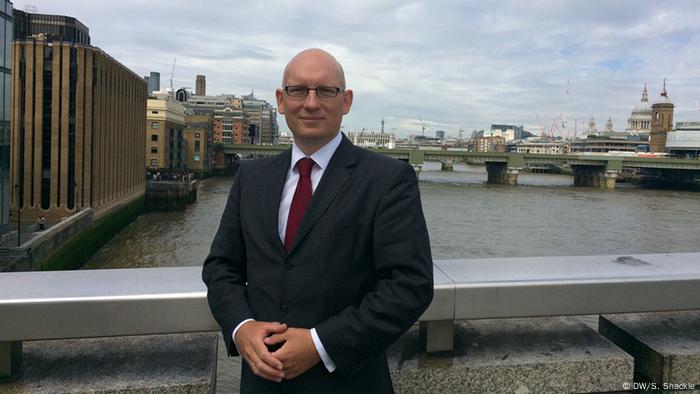 'Any idea of stopping terrorism in Western Europe without finding a solution to the Syrian conflict won't work,' Heinke said
Heinke, in common with other security officials, insists that the only possible option for Western governments is to continue the work they are already doing: monitor known radical groups, identify individuals involved, and work hard to obtain intelligence before attacks are carried out.
Yet he says the real solution lies outside Europe. "The Syrian conflict works as an incubator. Whether or not people are going to physically join the fight and then return, it provides a mental focus on the perceived war between the ummah, the community of the believers, and the infidels, the west. It fuels the ideology that we are in a constant fight. Any idea of stopping terrorism in Western Europe without finding a solution to the Syrian conflict won't work."