As wildfires blazed in California, leaving dozens dead and more than 1,000 missing, President Donald Trump tweeted that the state had grossly mismanaged its forests, and he threatened to cut off federal payments. After all, the subject was California, a bogeyman Republicans sometimes conjure up to illustrate what they see as the dangers of Democratic leadership.
"They [Democrats] want us to be just like California, right down to tofu and silicone and dyed hair," Texas Republican Senator Ted Cruz told a crowd of supporters in September during his re-election campaign. Nevada Republican Adam Laxalt made the threat of California-like regulation a central narrative in his unsuccessful bid for governor. The Republican Governors Association attacked Florida gubernatorial candidate Andrew Gillum, a Democrat, who they said wanted to introduce "California-level tax rates."
Read more: Post-midterm outlook in US: 'It's going to be crazy for the next 2 years'
One in eight Americans lives in California, whose 39.5 million people make it the most ethnically diverse state in the country. They vote overwhelmingly for Democrats. The party gained even more power in the recent midterm elections, and now possesses every statewide elected position and has a supermajority in both houses of the California legislature. Republicans in office are not only rare, they aren't even in second place; independents hold more elected political positions in the Golden State.
But it hasn't always been this way. Notwithstanding Hollywood, hippies and Vietnam War-era protests, for most of the state's history, political power shifted back and forth between Democrats and Republicans. California "is really the Janus of American politics," said Sherry Bebitch Jeffe, a political analyst and former University of Southern California professor. However, it has for decades now been solidly Democratic.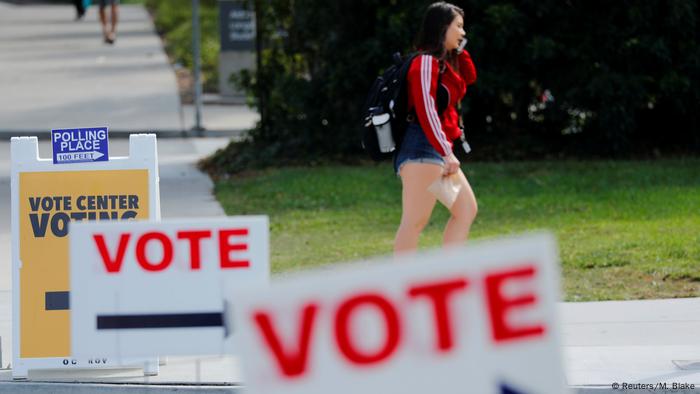 California has the most ethnically diverse population in the US
What changed? Demographics. In 1970, nearly 80 percent of California residents were white. By 1998, only 52 percent were white, with Latinos making up 30 percent, Asian-Americans 11 percent and African-Americans 7 percent.
Seminal moment in state history
The turning point for California politics came when Republican Governor Pete Wilson threw his support behind Proposition 187 in 1994. The ballot initiative was directed at people living in the US without legal permission and meant to cut off their access to public services, including schools and health care, and require teachers and health care workers to report such people to the authorities. Voters approved it, but courts deemed it unconstitutional, and it was never enforced.
Proposition 187 did, however, succeed in one thing: It rallied Latinos to get involved in politics. They gravitated to the Democratic Party and gradually began winning political office.
Read more: Is Donald Trump the Democratic Party's 'unwitting unifier'?
"It probably, at least in the short term, was helped by the fact that at the ballot box California instituted term limits on legislative office and on statewide offices," Jeffe said. "Incumbents were largely white male, but they had to leave. It's always far more difficult to unseat an incumbent legislator than it is to run in a seat that has no incumbent, and that opened the political process in the legislature much wider to women and to ethnic minorities."
These days whites are no longer a majority in California, making up just under 38 percent of the population. Latinos are the largest group at 39 percent, followed by Asian-Americans — the fastest growing group — at 15 percent and African-Americans at 6 percent, according to the Public Policy Institute of California.
California and 2020
There's another reason Trump and Republicans rail against California. State politicians, from Nancy Pelosi, the minority leader of the US House of Representatives, and Senator Kamala Harris to Governor Jerry Brown and Los Angeles Mayor Eric Garcetti, have loudly opposed the president's actions from day one of his term in office.
"Donald Trump has put California in his sights because we have a governor and statewide officials, all of whom are Democrats," said Jeffe. "We have a legislature under the control of Democrats, who are all of them about 180 degrees opposite in terms of the major issues that concern Californians — opposite from Donald Trump. We are perceived as the fulcrum of the 'resistance' movement."
Read more: 'Donald Trump's GOP loyalists like a cult of personality,' says ex-governor
But Californians are by no means the only critics; politicians from numerous states, including Trump's home state of New York, have also been vocal in their opposition. California, however, has attracted more vitriol.
"You have a lot of these places in the world that at some point, depending on political ideologies, serve as ideas of a utopian or dystopian place, and in US politics sometimes that's the same place," said Curd Knüpfer, a political scientist at the Weizenbaum Institute for the Networked Society in Berlin. "So at this point with the fires and the crises going on in California, it's now become a talking point and a topic of contention."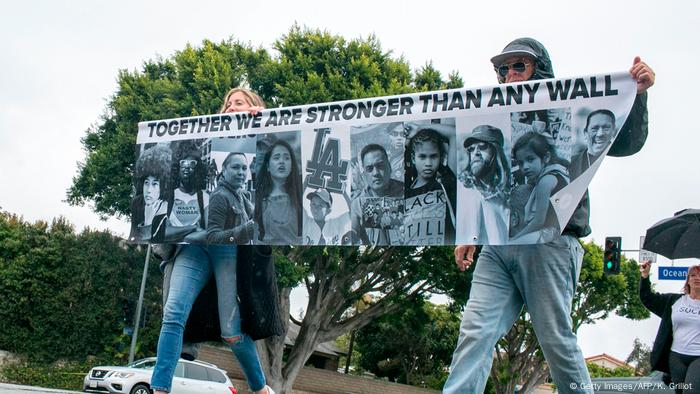 Californians have been vocal in their opposition to many of Trump's policies
But whether he targets California, "Obama judges" or the "fake news media," Trump's aim is to distract from the shortcomings of his own administration, Knüpfer said.
"The goal is to get re-elected and to stay in power for as long as he can. That's what all these examples of petty battles on Twitter and nonsensical, or just outright lies that he tells, are. They're all doing the same thing. And whether it's California this week — or next week it might be immigration again — it's part of the same strategy."
It's still too early to say whether it's a winning strategy, but it's almost guaranteed it won't work in the Golden State.
Every day, DW's editors send out a selection of the day's hard news and quality feature journalism. Sign up to receive it here.