Yemeni Houthi rebels on Monday released at least 290 detainees from a prison in the capital, Sanaa, as part of a UN-brokered prisoner exchange agreement between the rebels and Yemen's Saudi-backed government.
In December 2018, the Iran-backed Houthis agreed with the Yemeni government to swap prisoners as a confidence-building step. Each side agreed to release at least 7,000 prisoners, but implementation has stalled.
Many of the prisoners were taken in raids that the rebels have carried out since 2014, when they overran Sanaa, and much of northern Yemen, pushing Yemen's government out.
Saudi Arabia intervened on behalf of the Yemeni government in 2015, intensifying a civil war and humanitarian catastrophe in the country.
Read more: Yemenis rally in Sanaa to support Houthis on conflict anniversary
UN welcomes Houthi move
The Houthis said on Monday that they had freed 350 detainees from Sanaa's Central Prison, adding that those released were on a list that had been prepared for the UN deal.
The Red Cross said it had facilitated the release of 290 prisoners; however, more could have been freed without the aid group's involvement, according to The Associated Press.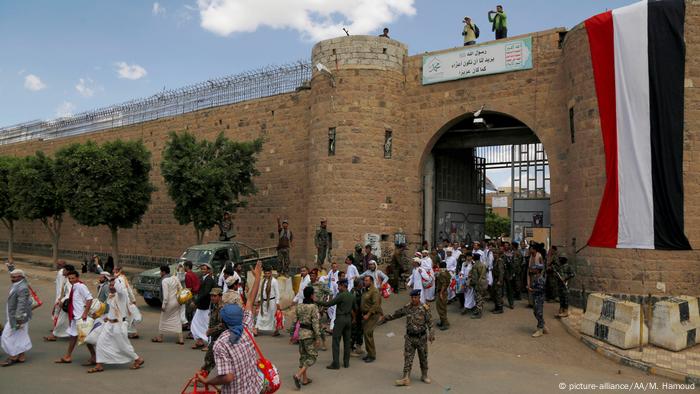 Detainees being released from Central Prison in Sanaa on September 30
A Houthi official in charge of prisoners' affairs told reporters in front of the prison that the move "proved" the rebels' credibility in implementing the agreement reached in Sweden in late 2018, calling on the Saudi-led coalition to "take a comparable step."
The UN's special envoy for Yemen, Martin Griffiths, welcomed the unilateral release of the detainees, adding he hoped the move would "lead to further initiatives that will facilitate the exchange of all the conflict-related detainees as per the Stockholm Agreement."
"I invite the parties to meet at the nearest opportunity and to resume the discussions on future exchange," he added.
Read more: Opinion: Donald Trump hesitates on Iran attack — with good reason
The Houthis said on September 20 that they would halt missile and drone attacks on Saudi Arabia if the Saudi-led coalition ceased operations.
On Sunday, the rebels claimed to have captured "thousands" of Saudi soldiers in an attack near the Saudi border with Yemen. On Monday, a spokesman for the Saudi-led coalition called the claim a "farce," according to The Associated Press.
Every day, DW's editors send out a selection of the day's hard news and quality feature journalism. You can sign up to receive it directly here.
wmr/msh (AP, Reuters)