Thousands of Yemenis held a rally in the capital Sanaa on Tuesday to show their support for the Houthi rebel movement after four years of conflict.
"Our men are in all provinces. Our people will be victorious," Mohammad Ali al-Houthi, a member of the rebel group's Supreme Political Council, told the crowd as he vowed victory in the war.
Read more: Yemen: The devastating war waged with European weapons
Demonstrators waved flags with the red, white and black national colors as they gathered in al-Sabeen Square in the center of rebel-controlled Sanaa, with senior Houthi officials turning out for the occasion.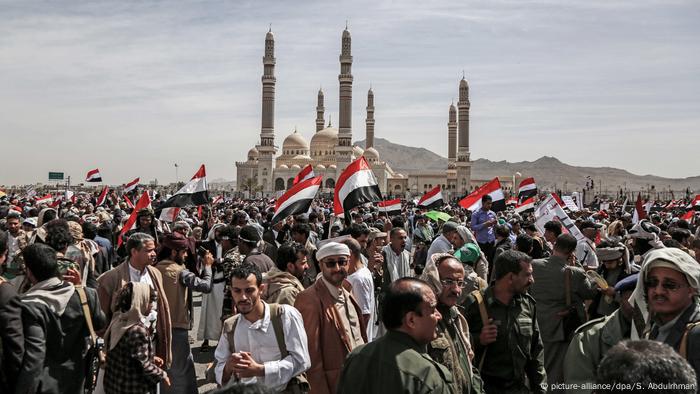 Protesters raised placards calling for steadfastness against what they described as aggression with pictures of rebels killed in Saudi-led coalition airstrikes.
They chanted slogans against Saudi Arabia, and the United States, which backs it.
Read more: In Yemen's war, locals struggle to stay neutral
Yemen is one of the Arab world's poorest countries and has been entangled in a conflict since late 2014 with thousands of people killed.
As protesters rallied, NGO Save The Children said one of the hospitals it supports in Yemen was hit by an airstrike. Seven people died, the humanitarian aid group said, when a missile struck a gasoline station near the entrance to Ritaf rural hospital, about 100 kilometers (60 miles) from the city of Saada in northwestern Yemen on Tuesday morning.
Iran's Foreign Minister Mohammad Javad Zarif said the blame lay with Saudi Arabia and its allies for rejecting peace.
Read more: In Yemen war, coalition forces rely on German arms and technology
The Saudis accuse Iran of supplying the Houthis with arms, including drones and missiles — accusations that Iran and the Houthis deny.
"On the eve of the war's shameful fifth year, a reminder that it's not too late to stop the nightmare that this war has become," Zarif said on Twitter.
Saudi-led attacks have killed nearly 4,600 out of the 7,000 civilians who have died in the war, according to recent figures by the UN Human Rights Office.
Hundreds of thousands are facing starvation with tens of thousands of children estimated to have died from malnutrition.
The number of Yemenis who need humanitarian aid rose by 2 million to 24 million last year, a number that equates to 80 percent of the country's population.
law/jm (dpa, Reuters)
Each evening at 1830 UTC, DW's editors send out a selection of the day's hard news and quality feature journalism. You can sign up to receive it directly here.