The alleged grounds for criminal charges included, among other things, participating in and urging others to contribute to public nuisance, Hong Kong democracy activists said on Monday.
At least eight activists face charges, including lawmakers, student organizers, academics, and a reverend.
The phone calls from police came one day after pro-Beijing candidate Carrie Lam triumphed in controversial elections to be Hong Kong's next leader. After being selection by an approximately 1,200 person large election committee, Lam will take office in July, becoming the semi-autonomous city's fourth leader since British colonial control ended in 1997.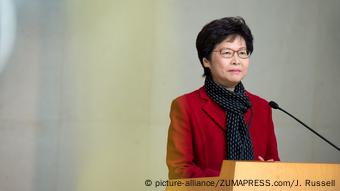 Carrie Lam is perceived as being loyal to Beijing
"Immediately after Carrie Lam's victory, a number of protest leaders who were part of the Hong Kong Federation of Students have received phone calls from the police indicating their arrest because of participation in the Umbrella Movement three years ago," said Joshua Wong, a pro-democracy campaigner and leading figure behind the Umbrella protest movement.
Wong, who did not receive notice of charges but faced previous conviction, called the unexpected communications "political prosecution."
A phone call three years later
Civic Party lawmaker Tanya Chan was one of the individuals who received a phone call informing her of the criminal charges against her. She told AFP that police had arrested her in the immediate aftermath of the Umbrella protests three years ago but had brought no charges at the time. Chan will present herself to police on Monday and appear in court on Thursday.
The 2014 Umbrella protests saw thousands of pro-democracy activists flood the streets of Hong Kong. The protestors' main demand centered on the Chinese government's de facto screening of Hong Kong candidates to get on election ballots.
The protestor's activities blocked key transportation routes in the city of around 7.2 million people for 79 days. Chinese pro-Beijing Hong Kong Government officials described the blockade as an "illegal occupation."
Election issues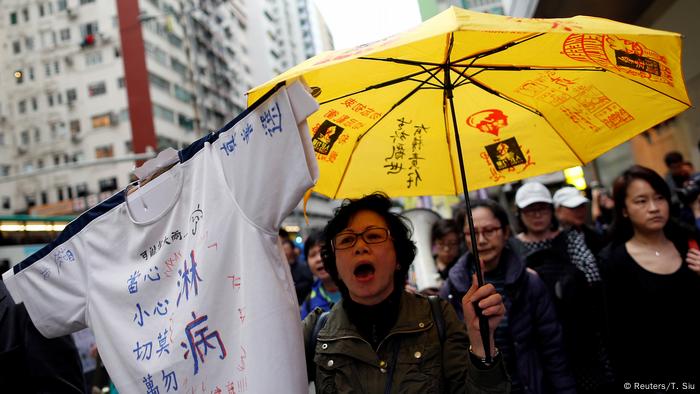 Protesters surrounded polls on Sunday, often carrying the iconic yellow umbrella from the 2014 movement
The freshly-elected Lam claimed to have no knowledge of the charges communicated on Monday to Umbrella protest leaders because they were issued by the current administration.
Lam, who campaigned on promises to ease political tension between pro-China mainland loyalists and Beijing's critics, also stated the charges were part of independent justice proceedings in which she would not become involved.
"I made it very clear that I want to unite society and bridge the divide that has been causing us concern, but all these actions should not compromise the rule of law in Hong Kong, and also the independent prosecution process," Lam said.
However, the charged lawmaker Tanya Chan dismissed Lam's professed desire for unity, instead arguing that the incoming city leader's statement went against the promises of reconciliation.
Professor Chan Kin-man, a key Umbrella protest leader who also faces charges, fears for Hong Kong's future.
"The message is strong. Carrie Lam said she wanted to mend the society, but the message we got today is prosecution. In don't see how the society's cracks can be mended," he told Reuters.
In a review process that the Umbrella activists criticize as sham democracy, all candidates must be vetted by Beijing before being placed on the ballot.
Protesters and counter-protesters had surrounded the polling stations on Sunday as the vote was tallied.
cmb (dpa, Reuters, AFP)