Security forces in Honduras used tear gas against rock-throwing protesters on Saturday as anger over the country's disputed presidential election continued to spill onto the streets, officials said.
At least one person was shot dead by police in the town of Saba, 210 kilometers (130 miles) northeast of the capital, Tegucigalpa.
Authorities tried to clear roadblocks of burning tires in several towns and cities following a call for a national day of strikes.
Police say 12 people were arrested and four officers were injured, one seriously, in the latest confrontation with supporters of the center-left Opposition Alliance Against the Dictatorship coalition.
Protesters accuse the government of stealing the November 26 presidential run-off after their candidate, former TV anchor Salvador Nasralla, initially led the vote tally.
Ballot counting lasted three weeks after several interruptions and eventually saw President Juan Orlando Hernandez re-elected.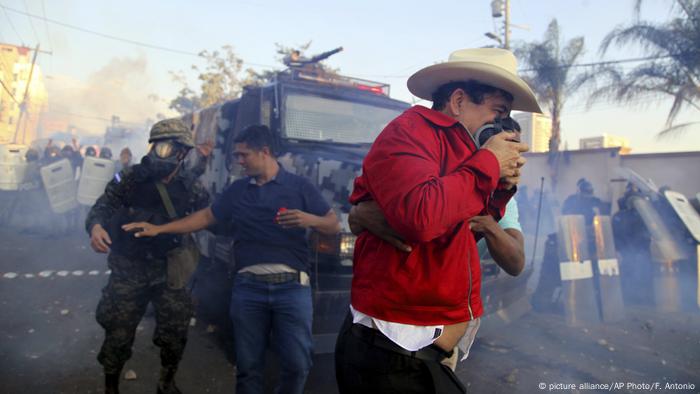 Among those protesting on Saturday was former President Jose Manuel Zelaya, who was caught up in a volley of tear gas
The 49-year-old, who took office in 2013, is the first president to run for a second term after a ban was lifted by the country's supreme court.
Read more: Opinion: Honduras crisis was long in the making
More protests expected
The latest death takes to 31 the number of people killed during protests since the election. Hundreds of protesters have been jailed amid a worsening political crisis that the opposition says it will maintain at least until Hernandez's swearing in on January 27.
The United Nations Human Rights office said on Friday it was concerned about the risk of heightened unrest and called on all sides to refrain from inflammatory speech.
UN spokeswoman Elizabeth Throssell called on authorities to avoid using the military police and the armed forces to respond to demonstrations, a function the world body insisted they were neither trained nor equipped to perform.
Hernandez has offered dialogue to Nasralla, who declined the offer, saying that he wanted a foreign party to mediate between the two.
Among those backing the protests is former President Manuel Zelaya, who was ousted in a 2009 coup.
"We have to stay in the streets." said Zelaya on Saturday. "If they move us from one spot, we have to move to another. We need to be permanently mobilized to keep up the pressure and prevent the dictator from installing himself."
Honduras is one of three poor, often violent countries that make up Central America's "Northern Triangle," which is the biggest source of undocumented migrants heading to the US.
Washington has poured millions of dollars into the country, as well as El Salvador and Guatemala, to improve security conditions.
mm/jlw (AFP, AP, dpa, Reuters)