Honduras' main opposition parties on Friday formally requested the results of a controversial election be annulled, claiming widespread irregularities marred the November 26 vote.
Opposition leader Salvador Nasralla submitted the request to the electoral tribunal shortly before a midnight deadline. According to the official count, Nasralla trails conservative incumbent Juan Orlando Hernandez by 1.6 percentage points.
Read more: Honduras: 5 things to know about the divisive elections
"We're asking for the result to be declared null at the presidential level, due to the scandalous fraud we have discovered," said Nasralla.
President Hernandez and Nasralla both claimed victory in the wake of the election. Opposition lawmakers have criticized Hernandez's run for a second term, saying such a move is categorically prohibited by the constitution.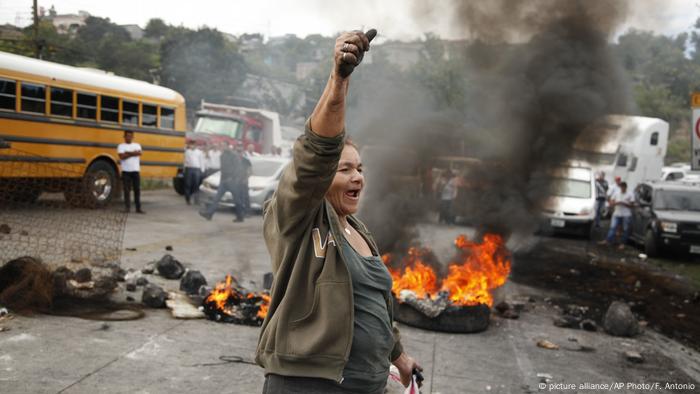 Anti-government protesters have taken to the streets to demand a recount of the vote following allegations of widespread fraud
'Constitution prohibited it'
Octavio Pineda, who leads the opposition Liberal Party that placed third in the presidential election, also submitted a request of annulment, saying other factors also undermined the democratic process.
"There have been violations since the president of the republic was allowed to participate in the electoral process when the constitution prohibited it," Pineda said.
Read more: The faces behind Honduras' election turmoil
In 2015, the Supreme Court ruled that Hernandez could not be barred from running a second term despite a constitutional ban after the president claimed he was being denied a basic human right to run for the presidency.
The court decision divided the Central American country, which witnessed a military coup ousting leftist ex-President Manuel Zelaya in 2009 for attempting to run for a second presidential term, a move backed by Hernandez's National Party at the time.
'Excessive force'
Meanwhile, human rights groups have criticized security forces in the country for using violent measures to quell protests decrying irregularities during the elections.
Erika Guevara-Rosas, director of Amnesty International's Americas division, said at least 12 protesters have been killed and dozens more injured during "largely peaceful demonstrations" since the elections took place.
"Halting all use of illegitimate or excessive force against protesters by security forces, ending arbitrary detentions, and investigating all instances of human rights violations would be a good start to undo some of the many wrongs we have documented in recent days," said Guevara-Rosas.
ls/jlw (Reuters, AFP, AP)