Honduran President Juan Orlando Hernandez's celebrations at being the first re-elected leader in his country's history may have been premature, according to the latest election results.
Hernandez's main rival, TV personality Salvador Nasralla, had a five-point lead over the incumbent president with more than 50 percent of votes counted, an election official told news agency Reuters on Monday.
"[Nasralla] is practically the winner," said Marcos Ramiro Lobo, one of the four election tribunal magistrates.
An earlier count from the Supreme Electoral Tribunal, with 57 percent of the ballots counted, had also given Nasralla a five-point lead. The Tribunal said Nasralla had 45.17 percent of the vote, while the US-friendly Hernandez had only 40.2 percent.
Third-placed candidate Luis Zelaya said Nasralla was the country's new leader, and he urged Hernandez to accept defeat.
Confusion over winner
The outcome of the vote remains unclear after both Hernandez and Nasralla claimed victory.
"If the trends do not change, I can tell you that I will be the new president of Honduras," Nasralla said.
But Hernandez's ruling National Party reassured supporters that Hernandez was ahead in the count. The party's leader, Reynaldo Sanchez, told members "to prepare our people to defend the triumph in the streets" in a recorded video message.
There have also been concerns about the length of time authorities are taking to count the votes.
Read more: Honduras — 5 things to know about the divisive election
Six million people were eligible to cast ballots for a president, three vice presidents, members of Congress and nearly 300 mayors. Initial reports suggest a high voter turnout and few incidents of voting irregularities.
'Security and governance'
Hernandez's popularity had largely been based on a drastic drop in the rate of violence under his presidency. Honduras has long been wracked by poverty and violence, and not long ago claimed one of the highest homicide rates in the world.
However, according to Honduras' National Autonomous University, Hernandez's military crackdown on crime led to the rate almost halving from 92 homicides per 100,000 people in 2011 to 56 per 100,000 now.
Hernandez also favors closer ties to the US. His campaign website includes a quote from US Vice President Mike Pence, lauding him "for his leadership in addressing security and governance challenges."
Hernandez ran for a second mandate on Sunday despite a constitutional one-term limit on the presidency. Hernandez and his party contend that a 2015 Supreme Court ruling, which found that the ban violated a citizen's human rights, allowed him to stand again.
The opposition, however, has argued that the Supreme Court cannot override the country's constitution.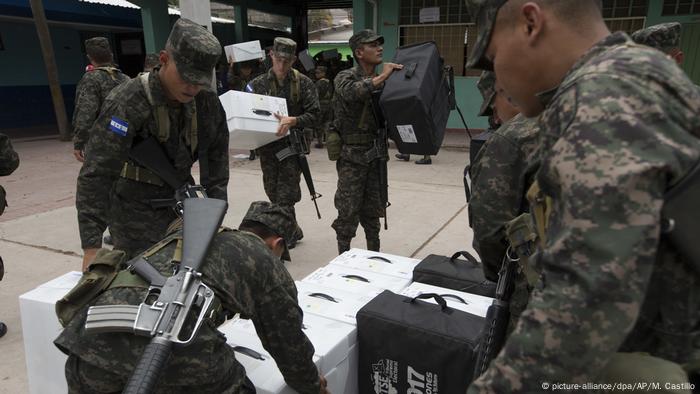 Military personnel watched over cast ballots, as political and judicial leaders said the electoral process was legally sound
Accusations of power grab
The dispute is particularly sensitive. In 2009, leftist President Manuel Zelaya (no relation to 2017 candidate Luis) was ousted in a military coup backed by Hernandez's National Party over fears he was planning to violate the constitution's rule on single-term limits.
Read more: Latin America — Outcry over corruption
Speaking to The Associated Press ahead of the vote, Zelaya said: "Here in Honduras there is no democracy; there is a dictatorship. The hypocrisy of the Honduran elite is evident ... the people will have to decide at the ballot box."
Hernandez claimed that he needed a second term to consolidate his achievements, such as improving security.
There have also been accusations of corruption, and most recently via The Economist magazine, allegations of outright vote-rigging via a recording that, if authenticated, suggests the ruling party was planning to distort results in the elections. The two-hour long audio appeared to be a training session for members of the National Party in charge of the voting tables at polling stations.
amp, jm, ls, dm/cmk (AFP, Reuters, AP)