Salvador Nasralla
He is a game show host, sports reporter and now the 2017 presidential candidate for the Alliance of the Opposition against the Dictatorship (Alianza de la Oposicion contra la Dictadura).
For decades Hondurans have known Salvador Nasralla, born in Tegucigalpa in 1953 to Palestinian parents, as "the lord of television." A prominent sports journalist in the 1990s, he went on to host the country's most-watched game show in 1992. Before becoming a public figure he was a professor of administration and engineering at the Universidad Nacional Autonoma de Honduras.
In 2011, Nasralla decided to dive into politics by forming the Anticorruption Party (PAC). He had been an outspoken government critic for decades after a string of high-profile graft scandals. Corruption remains a central problem Honduras.
He mounted a bid for the presidency in 2013, finishing fourth.
After being expelled from PAC last year over an internal dispute, Nasralla joined the left-wing opposition LIBRE and Party of Innovation and Unity (PINU). The coalition defines itself as a historic necessity demanded by the people to create equal job opportunities and a dignified life for all Hondurans.
During the campaign he vowed to guarantee free access to public health care and education. He presented the crime-prevention "Community Security Plan." Honduras has one of the highest crime rates in the world.
Juan Orlando Hernandez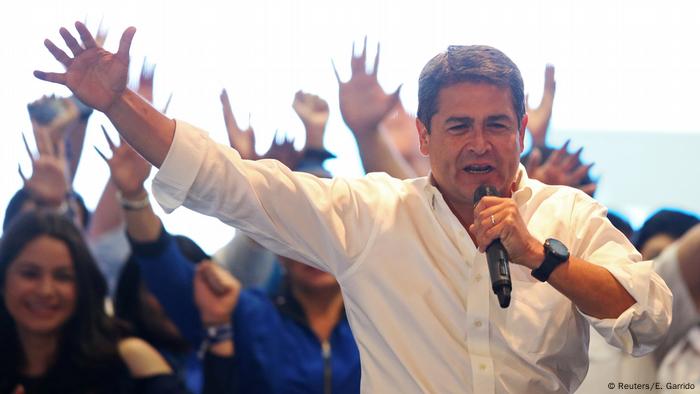 Juan Orlando Hernandez has been president of Honduras since 2013
Born to a wealthy family in the small town of Gracia in 1968, Juan Orlando Hernandez has been president of Honduras since 2014. A year ago the Supreme Electoral Tribunal allowed him to become the first man to run for a second term in office.
Like his father before him, he is a member of the right-wing National Party of Honduras (PNH). He served twice as a state legislator beginning in the 1990s, rising through the PNH ranks before going on to serve as the president of Congress from 2010 to 2014.
As a presidential candidate in 2013 he vowed to improve the country's security by implementing toxicology exams and tests of trustworthiness for the police. He promised to create 10,000 new jobs for young people and curb poverty through his "Better Life" program.
His government has been under fire for alleged corruption claims involving high level officials, along with members of the judiciary, military, and police. In May 2015 the Brazilian news outlet Radio Globo discovered documents that allegedly showed how Hernandez and the PNH had received large amounts of money through fraudulent contracts awarded by the Honduran Institute of Social Security (IHSS). The contracts had been approved by Congress while Hernandez was its president.
Hernandez has accepted that his presidential campaign received money from companies tied to the scandal but denies any personal knowledge. In 2015 he appointed a commission to investigate corruption.