Anti-government demonstrations erupted across Honduras on Monday after President Juan Orlando Hernandez was officially declared the winner of last month's presidential election, even as some foreign observers cast doubt on the results.
Honduran election officials declared Hernandez the winner with nearly 43 percent of the vote, against 41.4 percent for his opponent, former TV host Salvador Nasralla, in the November 26 election.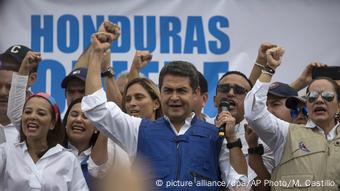 Hernandez was officially declared the winner on Sunday
But Nasralla and his supporters immediately cried foul, and some foreign observers, like the Organization of American States (OAS) concurred. The OAS found the election results highly suspect, and said the winner could not be conclusively determined because of irregularities. OAS has proposed holding a new election.
"The only possible path for the winner to be the Honduran people is a new call for general elections," the OAS said "Respecting democratic values and citizens is the necessary road to safeguard society from death and violence."
Among the many problems OAS uncovered were "deliberate human intrusions into the computer system, intentional elimination of digital traces," opened ballot boxes and "extreme statistical improbability regarding levels of participation within the same department," combined with the narrow vote differential.
Nasralla is willing to run again, saying he beat Hernandez once and he can beat him again. But Hernandez's supporters, including First Vice President Ricardo Alvarez, have rejected the idea.
"The only other elections there are going to be in this country will be on the last Sunday of November 2021," he said Monday.
"This is an autonomous and sovereign nation," Alvarez told reporters. "This is a nation that is not going to do what anybody from an international organization tells it to do."
Hernandez has remained silent on the calls for a new vote, mourning his sister who died in a helicopter crash over the weekend.
Protesters shut down businesses
Nasralla's supporters blocked streets and highways across the country on Monday with burning tires and rocks. As soon as police and soldiers cleared the obstacles, protesters put them back.
Universities, banks and other businesses closed due to the unrest in the capital, Tegucigalpa. People who had to get to work there did so on foot.
Most businesses were also closed in the country's second-biggest city, San Pedro Sula, and National Police spokesman Jairo Meza said some businesses there had been looted.
At least 17 people have been killed in violent street clashes since the election.
Nasralla has traveled to Washington to make his case for a new vote, meeting with OAS Secretary-General Luis Almagro, officials from the US State Department and human rights groups.
During a layover at the Miami airport, Nasralla called Hernandez's re-election illegitimate and said he would ask the OAS to invoke its democratic charter against Honduras.
"The declaration by the court is a mockery because it tramples the will of the people," he said.
bik/cmk (AP, Reuters, AFP, dpa)