Germany's judicial "Nazi hunter" agency - or the Central Office of the State Justice Administrations for the Investigation of National Socialist Crimes - has said that it has found eight more suspects, who all worked in the Stutthof concentration camp in northern occupied Poland (pictured above).
The director of the Ludwigsburg-based Central Office, Jens Rommel, confirmed to DW that all eight suspects, four men and four women born between 1918 and 1927, are German and living in Germany, though their names and towns of residence have not yet been released. The suspects have not yet been informed that they are under investigation, since state prosecutors must now assess their cases.
The four men were all guards, while the women worked as typists and telephone operators, at Stutthof, a little-known camp that was set up in 1939 as a "civilian prisoner camp" near the free city state of Gdansk before the German invasion and occupation of Poland.
The first prison camp outside Germany's borders, Stutthof was integrated into the concentration camp system following a visit by Reichsführer Heinrich Himmler in 1941 and saw the mass-murder by gassing and shooting of around 27,000 people, mainly Jewish, during the "Final Solution" in the summer and autumn of 1944. The newly discovered suspects, none of whom have faced investigation before, all served at the camp during this period. Stutthof was finally evacuated in January 1945, and the remaining prisoners sent on death marches.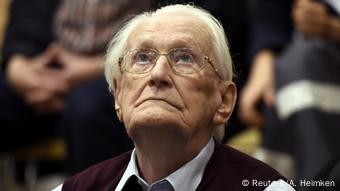 Gröning was sentenced to four years in prison last July
Why now? Why Stutthof?
The new investigations were precipitated by the conviction in 2011 of John Demjanjuk, a Ukrainian POW who became a guard at the Sobibor death camp in eastern occupied Poland. His conviction on 28,000 counts of accessory to murder set a new legal precedent in Germany that allowed rank-and-file participants in the Holocaust to be tried.
The most prominent recent trial was that of former Auschwitz guard Oskar Gröning, who was sentenced to four years in prison last July on 300,000 counts of accessory to murder. He is awaiting the result of two appeals, but at the age of 95 is unlikely to serve time. Another former Auschwitz guard, 94-year-old Reinhold H., went on trial in Detmold in February this year, charged with 170,000 counts of accessory to murder.
Following these Auschwitz trials, the Central Office turned its attention to other camps where mass-murder had been committed. "The thought was that it was not necessary to have participated in a murder with your own hands, but that it can be sufficient that you were in service during a mass-execution program," Rommel told DW.
"We applied this thought to other camps, and confirmed that there was such an execution program at Stutthof, where people were systematically murdered," he said. "Next we tried to find out who was stationed at Stutthof during that time, checked who was still alive, and that's how we came to these eight people."
Decades of judicial failure
The Central Office trawls archives inside and outside Germany looking for records of former workers in concentration camps.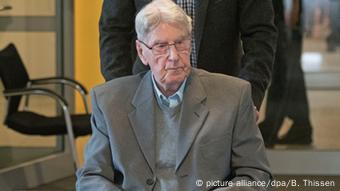 Former Auschwitz guard Reinhold H. went on trial in February
Some of the new suspects were still underage - that is, under 17 - when they were on duty at Stutthof, which means that if the cases do go to trial, they will likely face a trial in a juvenile court.
The new suspects certainly were relatively small cogs in the Holocaust's machinery. Rommel admitted that in the case of the women who worked as typists and telephone operators in Stutthof, prosecutors will face a new challenge in securing a conviction.
"That certainly is a difficult question - with the guards we think we can justify [the investigation] very well, because they prevented people from escaping," he said. "With the others it is difficult to ascertain whether [operating telephones] will be enough to make someone responsible - but on the other hand, passing on information about when a transport train arrived was of course necessary to carrying out the killings afterwards."
Josef Schuster, president of the Central Council of Jews in Germany, welcomed the new announcement, arguing that new Holocaust trials represented a small but important step towards making up for the failures of the German judiciary after the war. "For decades Germany failed to bring former NS criminals to justice," he told the "Jüdische Allgemeine" newspaper. "The judicial reprocessing of these horrible crimes is enormously important, even after so long a time, and can mean a late form of justice."
Attorney Cornelius Nestler, who represented Auschwitz survivors and the relatives of victims during Gröning's trial last year, says that if any of the eight new cases go to trial, it will be vital that new co-plaintiffs can be found to testify. "These trials live from the fact that there are co-plaintiffs (relatives of parents and siblings who were murdered in the relevant period in Stutthof), and witnesses (who are often also co-plaintiffs)," Nestler told DW in an email.