A series of watercolors, oil paintings and sketches allegedly made by a young Adolf Hitler have been sold by the auctioneers Ludlow Racecourse in Shropshire. The 13 pictures were painted between 1908 and 1914, when the Nazi leader was in his 20s and hoping to become an artist, auction specialists said.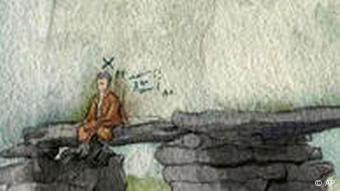 1910 self portrait of Adolf Hitler sitting on a bridge
The artworks include a self-portrait, signed with the initials A.H., which sold for 10,000 pounds, or just over 11,000 euros. Several of the other paintings – mostly landscapes – are signed A. Hitler.
Paintings discovered in a garage
The works were found by a British soldier in Essen, Germany, in 1945, who had served with the Royal Manchester Regiment. The auction house said the paintings were sold by the man to the unidentified current owner, who recently rediscovered the artworks while cleaning out his garage.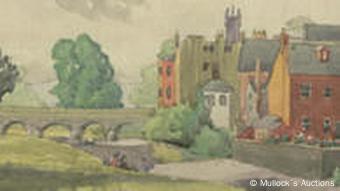 Town and landscape painted by Adolf Hitler
Auctioneer Richard Westwood-Brookes said the paintings "were hardly Picassos", but the sale was an opportunity to obtain original artwork by Hitler.
"Unfortunately for the world," said Westwood-Brookes, "Hitler was not accepted at the Vienna Academy, which was where he wanted to be. Had he gone there we would have known him today as an artist and not as an evil tyrant."