In a symbolic show of party unity, Clinton's former rival, Vermont Senator Bernie Sanders, told the convention chairwoman that the former first lady should be selected as the party's nominee by acclamation (crowd approval).
"I move that Hillary Clinton be selected as the nominee of the Democratic Party for president of the United States," Sanders announced, as the convention roll call reached his home state, a process where each state declares its delegate counts.
Following the announcement, Clinton tweeted just one word: "History."
The confirmation was greeted with cheers from ecstatic Clinton supporters, who drowned out jeers from Sanders' supporters. Senior Democrats took to the stage to praise their new nominee.
Clinton later addressed the crowd in a short live video from New York, telling them, "We have put the biggest crack yet in that glass ceiling."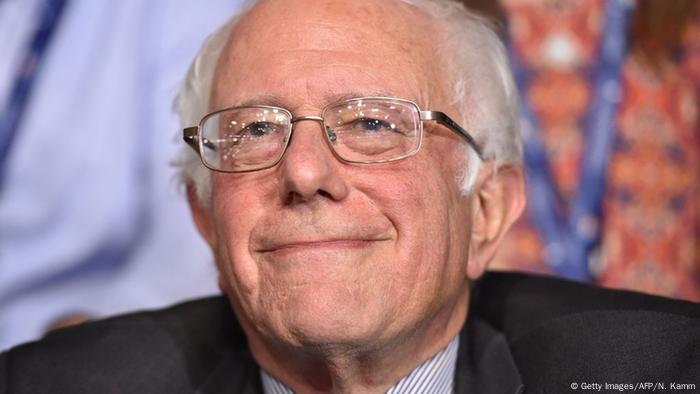 Bernie Sanders called on the convention floor to select his rival as Democratic candidate for US president
A few minutes before the announcement, Clinton had been confirmed to have passed the delegate threshold of 2,382 delegates to win the nomination. She later emerged with a total of 2,842 votes to Sanders' 1,865 votes.
The former New York senator and secretary of state had faced Sanders in a tough primary fight for the nomination, which lasted more than a year.
Although Sanders endorsed Clinton, some of his supporters protested in Philadelphia against the party leadership's apparent backing of her during the bitter Democratic primary fight.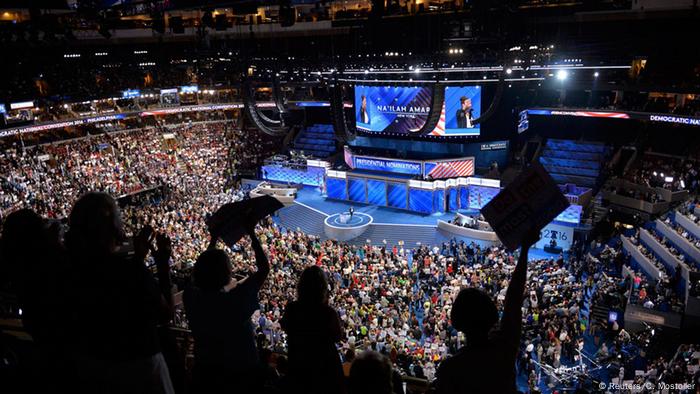 Clinton and allies are expected to attempt to unite the party after several rifts emerged during the nomination process
Earlier Tuesday at the Democratic National Convention, Maryland Senator Barbara Mikulski placed Clinton's name in nomination, a move that was later seconded by civil rights leader and Georgia Representative John Lewis.
The symbolic roll call was packed with extra emotion over Clinton's historic achievement. A 102-year-old woman, born before women had the right to vote, cast the ballots for the state of Arizona
In a speech at the convention later Tuesday, former US President Bill Clinton paid tribute to his wife, saying "she would make America stronger together," a reference to her campaign slogan, "because she's been doing it all of her life."
He praised Hillary as a force for change and a longtime fighter for social justice as he made a case for her historic 2016 bid for the presidency.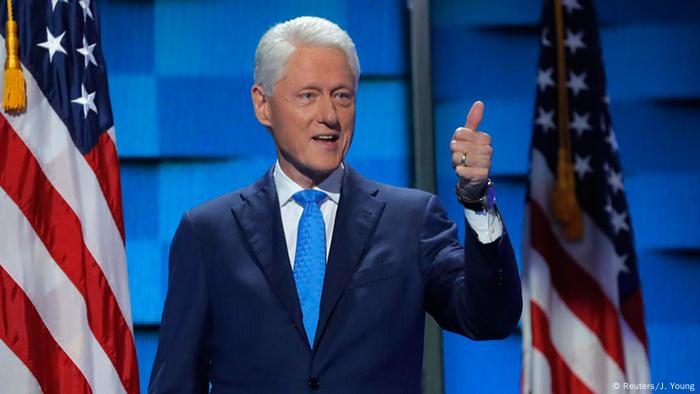 The former US secretary of state is expected to formally accept the party's nomination in a speech at the Convention Thursday.
Clinton will now face Republican nominee Donald Trump in the final race for the White House. The US will vote to replace two-term President Barack Obama on November 8.
The latest Reuters/Ipsos opinion poll predicts a close race. But Trump has taken a 2 point lead over Clinton with 39 percent support, versus 37 percent for the former First Lady.
mm/kl (AFP, AP, dpa, Reuters)