German cars scored poorly in an emissions study published Thursday, Nov. 15, by the Brussels-based European Federation for Transport and Environment (T&E), ranking in as Europe's biggest polluters. Average CO2 emissions increased between 2005 and 2006, for some of the Germany's major car brands.
"Germany's fine automotive engineers should be focusing on making cars leaner and more fuel efficient," said T&E director Jos Dings. "Launching one or two 'eco' models is not enough to meet the challenges of climate change, rising fuel prices and Europe's increasing dependence on imported oil."
Worst grades for Daimler, BMW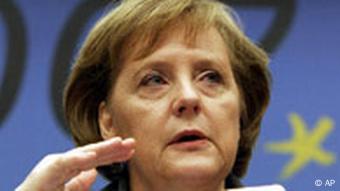 Merkel has been a major proponent of climate protection
Daimler took last place in the CO2 emissions ranking, with a reported increase of 2.5 percent in its fleet's average emissions between 2005 and 2006. Volkswagen was also found to have an emissions hike of 0.9 percent. Suzuki, whose CO2 emissions increased by 1.8 percent, was the only other manufacture among the 14 in the study that averaged higher pollution rates.
Among the German carmakers, only BMW reported an average CO2 reduction (2.5 percent), but was still ranked second to last by the study with a fleet average of 184 grams/kilometer (g/km) of emissions. The German group of Daimler, VW and BMW had an overall increase of CO2 emission of 0.6 percent and none of the German manufactures emitted less than the European average of 162 g/km in 2006, according to the report.
France, Italy take the lead
Overall, France's PSA Peugeot Citroen sold the lowest emitting cars in Europe in 2006 with a fleet average of 142 g/km, representing a 2.7 percent decrease over 2005. Fiat of Italy and France's Renault group followed with 144 g/km and 147 g/km, respectively.
Toyota had the largest drop in emissions over the one-year period -- 5 percent -- and a relatively low fleet average of 153 g/km. German cars emitted on average 173 g/km in 2006.
The study, which only included carmakers that had sold at least 200,000 vehicles in Europe in 2006, revealed that the weight of vehicle is directly proportional to the amount of CO2 it emits.
T&E said that Daimler's poor performance in the CO2 study could largely be attributed to the 4.1 percent average weight increase in its fleet between 2005 and 2006.
Balancing act between EU, car lobbies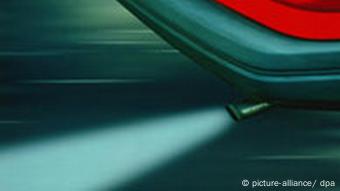 CO2 emissions is directly related to the weight of the vehicle
"It's ironic that the country that did so much to get a European consensus on new climate targets earlier this year is also home to the carmakers that are holding back progress on one of the most important ways of achieving them," said Dings.
Climate issues had topped Germany's agenda during its EU presidency in the first half of 2007, but pressure from automotive lobbies has hindered stringent CO2 limits on cars.
In 1994, the European Union set a goal of an average emission level of 120 g/km for new cars by 2012, but the amount was adjusted to 130 g/km last month. Should German carmakers meet the target, which experts have said is unlikely, it would represent a 25 percent drop in CO2 emissions.
The EU's recent upward revision was seen as a blow to German Chancellor Angela Merkel's attempts to give Germany a leading role in the fight against climate change.
A recent proposal by the German government to implement a sliding vehicle tax based on CO2 emissions -- and a tax exemption for particularly low-pollutant cars -- may lead consumers to put added pressure on manufacturers. If approved, the law would go into effect in 2009.