The global music industry finally appears to be recovering from more than 15 years of declining revenues, thanks to the rise of music streaming platforms like Spotify and Apple Music.
Industry body IFPI has credited a 41-percent increase in income from streaming for making 2017 its third consecutive year of revenue growth. The global recorded music market grew by 8.1 percent last year to reach $17.3 billion (€14.2 billion).
IFPI's report, released on Tuesday, said streaming was now the sector's largest revenue source, after overtaking physical CD and vinyl sales, and having more than doubled last year's income from downloads.
"This report clearly shows that streaming is the recorded music industry's great hope for the future," Tim Ingham, editor of the sector's news site Music Business Worldwide, told DW.
Streaming platforms now made up 38 percent of recorded music sector revenues, contributing some $6.6 billion last year, he said.
Separate figures from Germany's BVMI music industry association revealed that streaming grew nearly 43 percent in 2017, and accounted for almost 35 percent of revenues.
Huge growth possible
Music industry analyst Denis Simms still sees massive growth potential for streaming platforms, in part thanks to the popularity of new gadgets such as smart speakers.
"Streaming is only really approaching market saturation in the Nordics at the moment, with the most lucrative markets such as the UK and US only just making inroads into mainstream audiences," he told DW.
Simms noted that China, once a haven for piracy, now has over 600 million users on streaming platforms, although paying subscribers represent just 15 million of that figure. He sees non-subscription, ad-supported streaming services leading the growth — just as Spotify announced it had ramped up its free offering.
Ingham, however, questioned whether the music industry could rely on the continued growth of paid-for subscriptions from streaming platforms, which reached 176 million by the end of last year. That's nothing, for example, when compared to Facebook's 2 billion accounts, he said.
Read more: Spotify: How a Swedish startup transformed the music industry
Streaming services will also need to rival radio worldwide to secure a greater share of advertising revenues, which currently make up just a small part of their incomes, Ingham added.
The music industry's struggle to cope with the rise of piracy brought on by the advent of digital recordings is well documented.
In the late 90s, when high-speed internet had just begun to take off, the music business witnessed annual revenues of $25 billion. But as sales of physical CDs and vinyl music declined, paid-for downloads could only substitute for a fraction of the lost revenue, which in 2014, led to the sector's revenues bottom out at $14.2 billion.
Sony to make vinyl records again after 30-year hiatus
Concerts replaced music sales
In the meantime, the music industry began to rely on concerts to boost its revenues, which saw many defunct bands including Guns n Roses, the Spice Girls, and the Grateful Dead, reform and go back on the road.
"When streaming was in its infancy, and paying out very little even to blockbuster artists, live music became the complete focus," Ingham, a respected UK music industry commentator, said.
Revenues from concerts grew by a third from 2000 to 2016, where they contributed 43 percent to the music industry's overall revenues, according to Midia Research.
Downloads, the other great hope, peaked in 2012 with revenues of $4.4 billion, and were down 20.5 percent last year, IFPI's data showed.
Fast forward to today and the labels and artists, who once complained of paltry streaming revenues, must now depend on the platform's fortunes for their future.
"Streaming is now really rewarding a lot of artists monetarily." Ingham noted.
More royalties for artists?
"Daniel Ek, head of Spotify, recently said that 22,000 artists are now in the "top tier" of earners, which I took to mean artists who can completely earn a comfortable living just off the platform —maybe $50,000 a year."
Ingham said although most artists will never make this much, they see great value in Spotify, for example, as a platform to increase their profile and sell tickets.
Read more: Big data, streaming — the music industry's path ahead?
He observed how many artists are now striking more lucrative deals with labels that allow them a bigger share — often half — of the streaming royalties.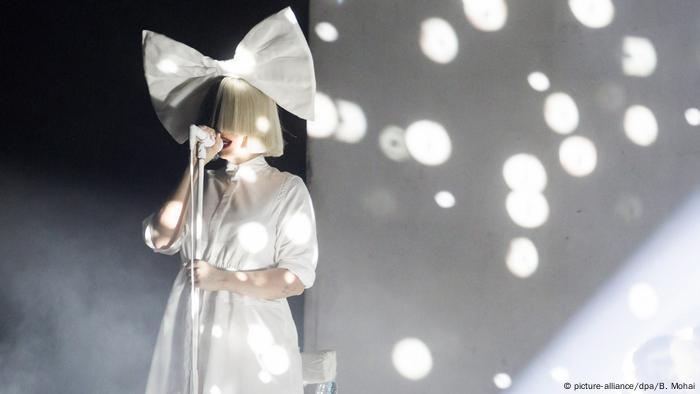 Australian singer-songwriter, Sia, had the most-streamed track of any female artist in 2017 on Spotify
Independent artists like Chance The Rapper, or until recently, Stormzy, kept as much as 85 percent of their streaming income, while self-releasing artists pretty much keep all of the royalties, Ingham added.
Not all rosy
The longtime music industry commentator warned that while streaming subscriptions were up dramatically, the average amount paid per subscriber fell last year — to $3.13 per month from $3.50 in 2016.
The major music labels, meanwhile signed new deals with Spotify, ahead of its $26.6-billion stock market float earlier this month, which were more advantageous to the leading streaming platform.
"Spotify's gross margin grew from 14 to 21 percent of its revenues in 2017; so the amount from which labels, artists, songwriters and other rights holders get paid fell from 86 to 79 percent," Ingham told DW.
He questioned, now that the music industry is so reliant on a single source of revenue, whether Spotify, and others, would seek to further lower its payouts.
Simms too thinks the loss-making Spotify and Soundcloud, among others, will need to cut their royalties to the music industry again, just to stay afloat.
"At the moment, it could be said that streaming is working fairly well for the music industry but not for the actual streaming services themselves."
Each evening at 1830 UTC, DW's editors send out a selection of the day's hard news and quality feature journalism. You can sign up to receive it directly here.