It's 7.30am on Thursday morning in the Hamburg borough of Altona, and on the surface there is little to distinguish this sunny day from any other.
The city is waking up in much the same way it does on every other weekday, and at the well-known junction of Max-Brauer-Allee and Julius-Leber-Strasse, it's starting to get busy as cyclists, pedestrians and cars — lots of cars — start piling up around the intersection.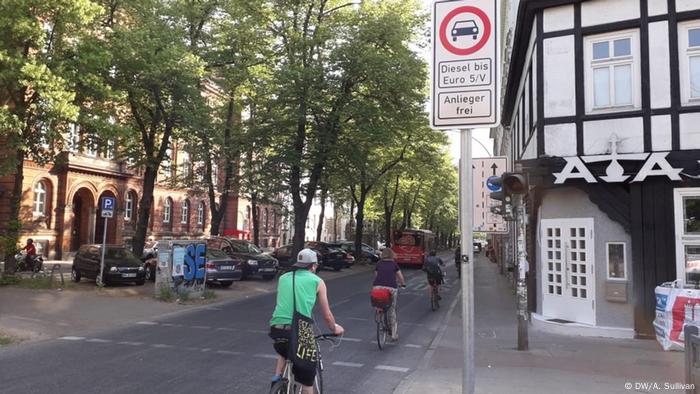 A general view of the start of the new restricted area for diesel cars, at Max-Brauer-Allee.
Situated discreetly over to the side of one of the footpaths is the evidence that this is no ordinary morning in the city. It's a small sign saying that from that point of the street on, all diesel cars except the very newest models are not allowed to drive any further. There is a small caveat added underneath — residents can go free.
Read more: German court allows city ban on diesel cars
"There's a diesel ban here?" one driver asks DW from behind the wheel as he waits behind traffic lights, having driven all the way down the street from the opposite side. "I'm driving a diesel here myself! But mine is exempted, it is not forbidden, is it?" he asks with a laugh. "Well I support the ban anyway, it's better. It's cleaner for us all."
A young woman, Gül, sits close by with her son at a café. "A diesel ban? I heard something about it but I find it really stupid, I have to say. Look out there at all the cars," she says, pointing towards the rapidly accumulating traffic. "How are they going to control it? Are police going to stand there and control it all day stopping cars? Many will still drive diesels here, even if it is forbidden. I would too."
Clean air for all!
This is what history looks like. From May 31, the city of Hamburg is banning all but the most modern 'Euro 6' diesel vehicles from sections of two busy streets in the city, the aforementioned Max-Brauer-Allee and Stresemannstrasse. There are several exemptions — for residents, taxis, buses, delivery vehicles and garbage trucks, for example — but regardless of its limitations, this is the first diesel ban of its kind to come into effect in Germany.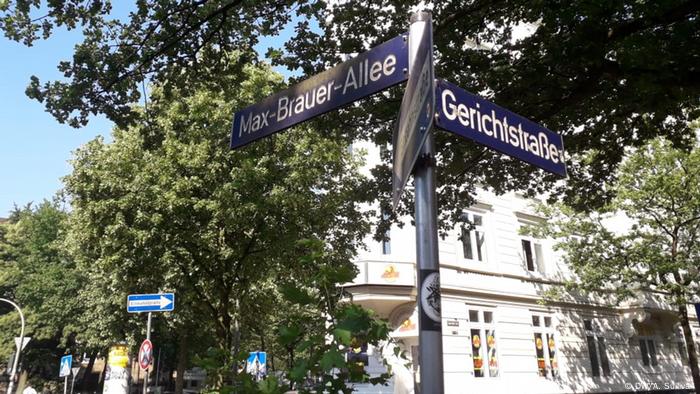 Max-Brauer-Allee and Stresemannstrasse, in the Hamburg district of Altona, are affected by the ban
Ever since the first tremors of the 2015 Dieselgate scandal were felt, the fuel named after its German founder Rudolf Diesel has been under siege. Following the ruling in February that diesel bans in German cities are legally permissible, it was only a matter of time before a city took the plunge.
Read more: What will it take to clear the air in Berlin?
Hamburg sees itself as one of Germany's greener cities, even though it is one of the 70 in the country that heavily exceeds EU NOx limits, a transgression the European Union has repeatedly vowed to clamp down on. Hamburg is governed by a coalition of the Social Democrats (SPD) and Greens, and Jens Kerstan, the Green party politician who serves as Hamburg's Environment Minister, said on Thursday that the ban is part of the city's "responsibility to protect the citizens against harmful exhaust gases."
Yet the ban has its critics, and not all of them simply disgruntled gas-guzzlers. At the Altona town hall, a short walk from where one of the restricted areas for diesels starts on Max-Brauer-Allee, there was a somewhat surreal press conference held to announce details of the measures.
Just before Kerstan and other city representatives spoke to the waiting media, a large and slightly ghoulish-looking collective of protesters wearing face masks and pictures of lungs over their chests did a circuit of the room, passing right in front of the speakers. They held up placards saying " "Placebos don't help" and "Clean air for all!" as they repeatedly mock-coughed, to highlight the health effects of emissions.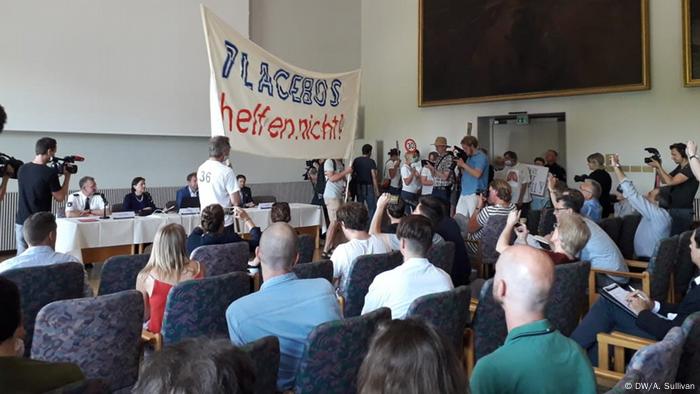 Environmental protestors at the press conference announcing details of Hamburg's new diesel ban
They say the ban doesn't go far enough. For example, the area of restriction only amounts to 580 meters of one of the two streets, with a 1.6-kilometer (0.994-mile) zone marked out on the other one — but in that second case, it only applies to trucks.
Perhaps the biggest bone of contention is the fact that the two small areas selected in the vast port city just so happen to be where three of the city's four stations for monitoring vehicle pollution happen to be located. In other words, the areas of the city where there might soon be a reduction of diesel-related emissions are the ones which record the pollution values for the city as a whole.
Making real a difference?
Plenty of local Hamburgers question the efficacy of a ban which has several exemptions and which covers only a small area. "It's too short to really catch anything," says 57-year-old Stefan Anderson, who has lived in Altona for 25 years without needing a car. He doesn't believe the ban will have much effect, but he says there is significant pollution in the city and believes that an overall ban on diesels would be for the best.
Read more: When driving isn't fun anymore
Mouchotte, a Parisian chef who has been living in Hamburg for almost 20 years, also doubts the value of the ban but for very different reasons. The happy owner of a 22-year-old diesel Audi, he says he doesn't have enough money to buy an upgraded diesel and doesn't see the value in doing so anyway. "There is a huge polluting port in Hamburg and they do this ban on just two roads? It's just a symbol, it's just politics," he said.
Read more: Think diesel cars are dirty? Try ships!
Back at the press conference, detailed maps are shown on the screens, outlining the complicated looking diversion routes offending vehicles will now have to the take in the city to escape the ban.
Overall, there is little feeling here that something truly major has happened but few think this is the end of the matter. Benjamin Stephan, a transport expert for Greenpeace, was also at the town hall, not to protest he says, but "to comment" on what more he and Greenpeace believe needs to be done on the issue.
"This is a strong symbol — the first diesel ban in Germany — so we are happy," he told DW.
"But to really make a change and to make the air across all our cities clean, we need far less diesel and petrol cars on the roads. In order to do that, the city of Hamburg and other cities now have to follow suit and really strongly invest into safer bicycle infrastructure, better public transport, better roads, buses and trains, a better network. They have to provide people with real alternatives so they are not reliant on their own car."