A study by German car expert Stefan Bratzel from the University of Applied Sciences in Bergisch Gladbach has revealed that young people living in big cities here are no longer keen to own a private car. Private car ownership and the emotional attachment of 18- to 24-year-olds in Germany have been decreasing steadily over the past few years, the survey shows. It's high time, it seems, that alternative traffic mobility concepts made inroads.
"In cities, young people are increasingly turning their backs on privately-owned cars," Bratzel told DW. "This paves the way for more public transport, alternative mobility concepts such as carsharing or bikesharing and other projects." He warned, though, that the situation would not change any time soon outside urban areas where privately owned cars are still highly valued.
Integrated mobility in Leipzig
The German city of Leipzig, for instance, is looking to digitally hook up its rail and bus services with its inner-city bike and car traffic. Across the city, there are 28 mobility stations to make it easier for people to change from one type of transport to another. A smart card enables travelers to get access to and pay for shared bikes or cars.
Volkswagen subsidiary MOIA hopes to improve mobility in Hamburg by pushing its pooling-principle shared taxi concept. It offers driverless VW e-buses that can be booked with the help of a smartphone app. It promises that bus stops are no farther away than 250 meters (820 feet) from where people live. A pilot project to this end is ongoing, with the official start of the scheme scheduled for next year.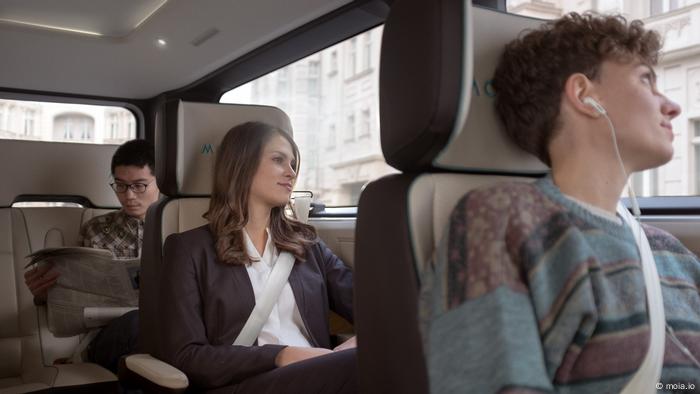 VW subsidiary MOIA is planning to start its shared minibus service in 2019
Deutsche Bahn subsidiary IOKL wants to offer carsharing using autonomous vehicles of various sizes. It's meant to become part and parcel of Hamburg's municipal transport system later this year. But there are also similar tests in smaller communities. Half a year ago, a self-driving electric minibus started operating in Bad Birnbach in the southern German state of Bavaria. It has already handled over 10,000 passengers.
In Munich, the "MVG Isar Tiger," a municipal mobility service, will start operating in mid-June. Via a smartphone app, you can book VW Caddy cars for use in restricted parts of the city.
Lack of political incentives
Currently, such alternative mobility concepts are being hampered by a lack of political support. "But politically motivated regulations are required to curb private car traffic," said Stefan Bratzel. "Otherwise, such projects can not really gain sufficient traction." Bratzel added there was no time to waste.
"The whole commercial supply traffic, which through the amazonization of trade is confounding the situation in urban areas, is bound to cause more and more congestion, but that has to be avoided."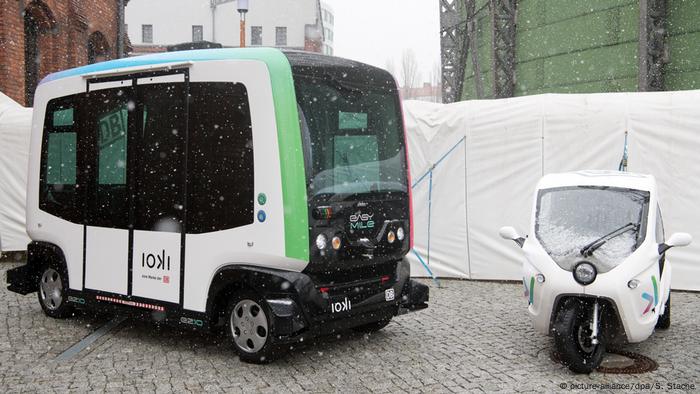 Autonomous buses and Zbee mini taxis from IOKL are in operation in Bad Birnbach, Bavaria
Germany's big carmakers have been investing heavily in mobility services for years. Daimler and BMW have recently pooled their respective services and now boast some 40 million customers, giving Uber a good run for its money.
Picking up the gauntlet
"We'll not leave the field to others when it comes to future urban mobility developments," said Daimler CEO Dieter Zetsche. "We're sending out a strong signal to our competitors by pooling our resources," added BMW cheif Harald Krüger when announcing the cooperation between the Car2Go and Drive Now carsharing services, with the mobility projects Mytaxi, Moovel and Park Now also to be bundled on one platform should regulators approve the deal.
Of course, Silicon Valley's internet giants also want to be part of the game. "It's a battle of different worlds, a battle between established carmakers and big data players," Bratzel argued, mentioning the ambitions of Google, Apple, Tencent, Alibaba and Baidu.
"These internet behemoths know how to handle large amounts of data and customer contacts, while for traditional carmakers it's still a steep learning curve."