Images of flattened houses, streets in rubble, and children with crushed limbs filled television screens following the devastating earthquake in Haiti in January 2010. Donor conferences were hastily arranged, and reportedly billions of dollars were pledged to help Haiti reconstruct.
But pledges do not necessarily turn into hard cash. Fifteen months after the earthquake, aid projects the UN regards as vital have an uncertain future.
Competing for donor attention with more recent crisis hot spots
"Already quite a few agencies, and quite a few non-governmental organisations are pulling out because they are running out of money," said Nigel Fisher, the UN's coordinator for Haiti. "I'm out there constantly talking about this situation, advocating for support and trying to get attention."
But, as donor countries shift their attention to other crises such as Libya or Ivory Coast, Nigel Fisher's pleas for Haiti are not getting the attention they need. While the UN's appeal for Haiti for 2011 was for $951 million dollars, it has received just 157 million.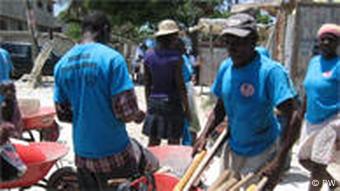 Even those few dollars a day to pay locals for clearing away rubble are hard to come by
That makes things difficult for the UN's World Food Programme (WFP), which is one of the leading agencies in Haiti and responsible for feeding over a million Haitian children a day.

In the district of Carrefour, an area almost completely destroyed by the earthquake, a WFP cash-for-work project which pays locals a few dollars a day to clear away the rubble is now running out of money.
The rubble clearing is supposed to be followed by rebuilding, allowing people to leave the camps, but project supervisor Magdala Michel, who lost her own mother in the earthquake, is not sure this will ever happen.
"Our funding runs out at the end of May, which is a great shame," she said, "because really we could do with financing for at least another six months: there is so much work still to do."
WFP ambassadors want to keep donors interested in Haiti
And so the World Food Programme (WFP), one of the leading agencies in Haiti, responsible for feeding over a million Haitian children every day, is resorting to other means to keep donor attention alive.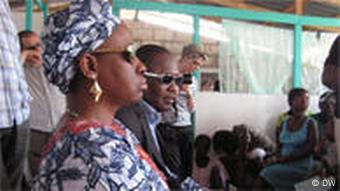 Drawing attention to hunger: Malian singers Amadou and Mariam
The Malian world music stars, Amadou and Mariam, have been appointed WFP ambassadors for hunger: their mission, to persuade European Union countries to keep on donating, despite the economic worries inside the EU.
"In Haiti, we are talking about hundreds of thousands of people whose future was absolutely zero, whose life is a complete catastrophe," said Myrta Kaulard, the WFP's director in Haiti, "we talk about the economic crisis in Europe, but here we have people who have lost everything."
When Amadou and Mariam visit, Myrta's first task is to take them to one of Port au Prince's many camps for the displaced. 25,000 people live in Camp l'Aviation, in extremely difficult conditions. After 15 months, the tents and tarpaulins rushed in after the earthquake are beginning to rot in the fierce sun and torrential rain.
Water and sanitation facilities are rudimentary, and the stench from the latrines mixes with burning garbage to form a choking cloud.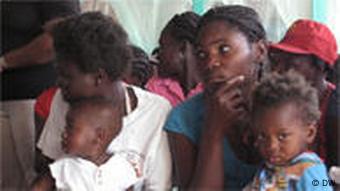 Nursing women and children most desperately need food
Nevertheless, the WFP and the European Union's humanitarian delegation to Haiti are keen to show Amadou and Mariam that something positive is taking place here.
A small clinic in the centre of the camp provides daily health advice, and food supplements to the youngest children and their mothers.
"The fact of having something like this, nutritional support for babies and their mothers, is really providing so much hope," said Myrta Kaulard.
A celebrity visit setting high hopes
But taking celebrities on a tour of a humanitarian disaster zone is not without its difficulties: Mariam and Amadou are accompanied by their managers, and a host of UN press officers. What's more, both singers are blind, and need to be carefully guided through Port au Prince's rubble filled streets.
Nevertheless, Amadou says, he and Mariam are likely to have more legitimacy than some other UN ambassadors, who, apart from the occasional visit to a disaster zone, have spent their entire lives in Hollywood.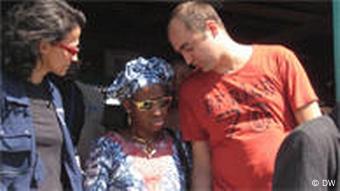 Mariam and Amadou think they're the right ones to adress hunger
"We ourselves are from a country where the World Food Programme operates," said Amadou. "In Mali we know hunger, and we know drought."
"So we thought well, we know about these things, and that's why we decided to become ambassadors: Because of our own experiences, we are genuinely in a position to talk about these things."
Both the WFP and the EU are pinning their hopes on the fact that Amadou and Mariam will indeed talk about hunger when they begin their next big European tour. The aid agencies and above all Haitians themselves will be hoping that message does not fall on deaf ears.
Author: Imogen Foulkes
Editor: Andrea Rönsberg