A Qatari official confirmed Tuesday that the small but wealthy Gulf state had dispatched 1,000 troops to join the fight in Yemen.
This comes as ground forces from Gulf states were moving towards the front lines against Houthi rebels in Marib province, east of the capital Sanaa, eyewitnesses told the dpa news agency Tuesday.
The developments are the latest moves in five months of airstrikes by a Saudi-led coalition against rebel militias.
Yemen "is bracing for a new and more deadly phase of violence in the north," said April Longley Alley of the International Crisis Group.
"Both sides are gearing up for a major conflict in the north and especially in Sanaa," she said. "A battle in north Yemen promises to be a prolonged, bloody affair that will worsen the already desperate humanitarian situation."
Qatari forces have not yet entered the country but were positioned at Yemen's border with Saudi Arabia, a source told the AFP news agency.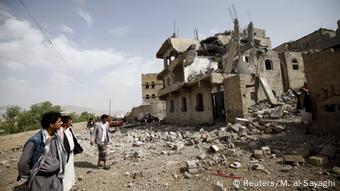 Saudi-led coalition warplanes have been striking buildings controlled by Houthi fighters
"We have sent troops who will be deployed along with Saudi troops," the official said. "They are at the Saudi/Yemen border, they have not entered Yemen. They should be entering Yemen in the next few days."
Shiite Houthi rebels, who have long suffered from marginalization, swept down from their stronghold in the northern mountains last year to seize Sanaa virtually unopposed.
They then advanced on the second city of Aden in March, forcing President Abed Rabbo Mansour Hadi to flee to Saudi Arabia. Riyadh has since organized an Arab coalition - backed by the US and other Western powers - aimed at restoring Hadi's internationally backed government.
Relentless air campaign
But Friday's Tochka missile attack that killed 45 soldiers from the United Arab Emirates, 10 from Saudi Arabia and five from Bahrain was by far the greatest loss suffered by the coalition, highlighting the extent of its involvement on the ground.
The attack was "a turning point," said Andreas Krieg, a consultant to the Qatari armed forces and a lecturer at King's College in London. He said the coalition "will prepare a greater deployment of ground troops" to support local forces trained and equipped over the past six months.
Roughly 1,000 Saudi soldiers have already arrived in Marib, Yemeni military sources said.
Hadi's government and its Gulf allies accuse Iran of backing the Houthis. Iran, which has warm relations with the rebels, has condemned the Saudi-led intervention but denies providing material support to the rebels.
Coalition warplanes, which have stepped up their air raids on Sanaa since Friday's missile strike on Safir, hit police buildings and a military base in the capital Tuesday morning.
jar/cmk (AFP, dpa)