The vast hole discovered beneath the ice of the the Hiawatha Glacier in northern Greenland is believed to be among the 25 largest impact craters on Earth, according to a study published in the journal Science Advances.
Initially discovered in 2015, an international team of researchers has been working on verifying the findings since then, with much more still to do.
Professor Kurt H Kjaer of the Centre for GeoGenetics at the Natural History Museum of Denmark said that the crater was not dated but "its condition strongly suggests that it formed after ice began to cover Greenland, so younger than 3 million years old and possibly as recently as 12,000 years ago — toward the end of the last Ice Age."
Sediment samples from the site of the crater confirmed that an iron meteorite, thought to have been around a kilometer (0.6 miles) wide, caused the 31-kilometer (19-mile) impact crater.
"The crater is exceptionally well-preserved, and that is surprising, because glacier ice is an incredibly efficient erosive agent that would have quickly removed traces of the impact," Kjaer said.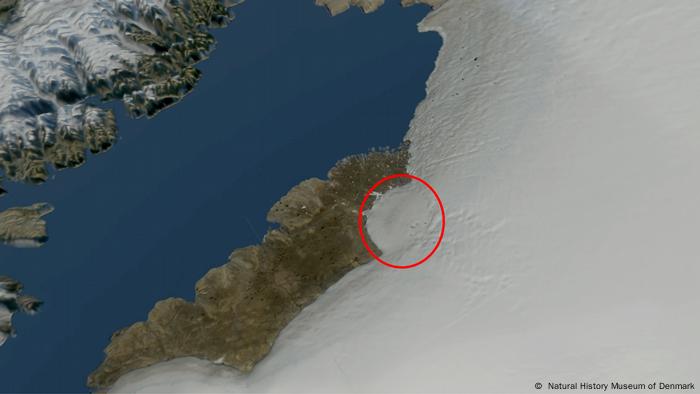 The site of the crater in Inglefield Land, Greenland
The impact would have had far-reaching effects on the planet, according to the researchers.
"There would have been debris projected into the atmosphere that would affect the climate and the potential for melting a lot of ice, so there could have been a sudden freshwater influx into the Nares Strait between Canada and Greenland that would have affected the ocean flow in that whole region," said co-author John Paden of Kansas University.
The research team used ice radar to map the tectonic structures of the rock, after NASA's Program for Arctic Regional Climate Assessment and Operation IceBridge first located the site.
Researchers plan to try to recover material that melted after the impact from the bottom of the glacier, hoping to learn precisely when the meteorite fell and how it affected the area.
msh/jm (AFP, dpa)
Each evening at 1830 UTC, DW's editors send out a selection of the day's hard news and quality feature journalism. You can sign up to receive it directly here.