On most mornings, Panos Rozakis is outside the tiny, seaside police station on this northern Aegean island, handing out dry clothes, sweet biscuits, bottled water and baby formula.
"Does she need socks?" he asks a young Afghan mother holding a curly-haired toddler. The mother, who gives her name as Fawzia and says she's from Kabul, nods. She's tired, dehydrated and wearing damp clothes. She, her husband and three children arrived on a tiny rubber boat this morning, paying a smuggler to transport her from Turkey to Greece, the entry point to the European Union.
"You know, the arrivals are too many, and police and port police cannot cope with so many people arriving here," says Rozakis, a teacher who spends all his free time volunteering with the local solidarity network, which is helping Leros authorities manage a record number of economic migrants and refugees slipping into Europe by sea.
"When people like this young woman arrive here, they don't know where to go, what to do," he says. "She just asked me, 'where am I? What do I do next? Where can I go to dry my clothes?'"
The number of migrants arriving in Greece by boat from Turkey has increased dramatically since last year. The International Organization for Migration says that nearly 22,000 migrants arrived in Greece in the first four months of 2015, compared to nearly 34,000 in the entire year of 2014. (A little over 26,000 migrants have reached Italy since the start of 2015).
The frontline for this migration is along the northern Aegean islands, which include Leros, Kos and Lesvos. Island municipalities are struggling to find temporary housing for the migrants, who must be fingerprinted and registered before they're given temporary residency papers that allow them to stay in Greece between one and six months.
Little provision for flood of refugees
Greece, in the throes of a deep economic depression sparked by its massive debt crisis, does not have the resources to help the migrants, says Matina Katsivelli, a retired judge who leads the Leros solidarity network.
"After 2010, when the debt crisis began, and so many things were cut off for Greek citizens, services for refugees were totally cut out," she explains. "And they were not restored, even when we knew there was going to be a big wave of people coming from Syria after the war."
One of those people is Latifah Abouras, a 40-year-old mother of three from the Syrian city of Daraa. She waits on a dirt lot next to the police station with scores of other refugees. As Katsivelli and Rozakis hand out clothes, Abouras feeds her two-year-old son, Adam, a small serving of spaghetti in tomato sauce. The state gives island municipalities money to cook for the refugees - about six euros a plate.
"Everyone has been so kind," she says, "but there are so many people here, waiting for papers. You tell your story, that you have been through war and you have been going from place to place for two years, but there are so many more stories like mine. The Greeks seem to care, but they don't have enough money to help all of us."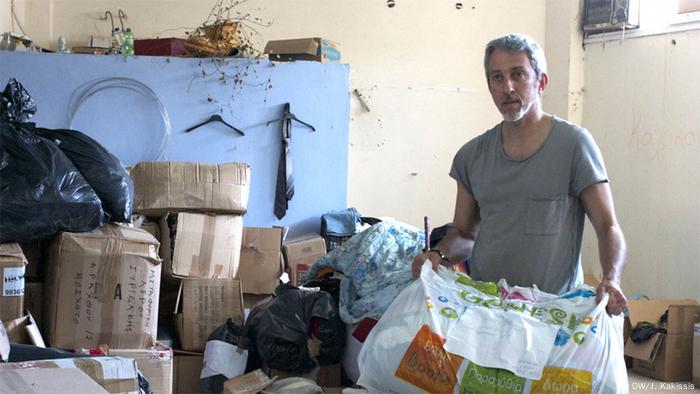 Panos Rozakis volunteers with the Solidarity Network of Leros, which is helping the coast guard and police on Leros manage the record number of migrant
A place to house migrants for the two or three days they stay on the island was one of the biggest problems. For weeks, migrants on Leros had been sleeping in cells at the police station, in storage areas and in hallways at the coast guard offices, and at a ward at a state retirement home. So Katsivelli and her solidarity network secured about 40,000 euros in state money to renovate an abandoned house near the state hospital that was once used for the mentally ill. It opened in March. It has six rooms, a couple of bathrooms and can accommodate about 40 people, though, more often, more people stay there.
The local municipal council voted against the building being used as migrant housing, but the national government overrode them. Mayor Michalis Kolias says he'd prefer to see a reception center built far away from villages. He says people are concerned that the migrants may have diseases and are not getting proper medical checks. "We don't have enough doctors on the island for ourselves," he says.
Smugglers say: 'Sink your boat'
The Leros solidarity network manages the house, which they call Villa Artemis, after the Greek goddess of the hunt whom locals say once watched over Leros. But there's always a coast guard officer keeping watch over it.
"We were happy that this house finally opened because we were so overwhelmed," says Sakellarios Biliris, harbormaster of the Leros Coast Guard. "We need more space, because it looks like more and more people will be coming."
Biliris says most migrants are from Syria, but he's also seen a few from as far away as the Dominican Republic and Haiti. Search-and-rescue vessels from the Leros Coast Guard are constantly on patrol, looking for inflatable boats carrying the migrants.
In the past, Biliris says they used to find more smugglers on board. But now, smugglers often send the migrants, most of whom have paid 1,000 euros each for a place on the rubber boat, alone to navigate the sea.
"The migrants are told by the smugglers to tear the boats as soon as they see the Greek Coast Guard," he says, explaining that it's a way to ensure they will be rescued by the Greeks and not intercepted by the Turkish Coast Guard. "Some carry knives with them to do so. So in six, seven, eight minutes the boat is sinking. We have to lift people out very quickly to make sure we don't lose anyone."
The Leros Coast Guard is still pained by a drowning tragedy that happened early last year, just outside Farmakonissi, an islet about seven nautical miles from the Turkish resort town of Didim. Eleven Afghans, all women and children, drowned during what was supposed to be a Coast Guard rescue.
Human rights groups say the Coast Guard had received orders from the previous conservative government, which was anti-immigrant, to push migrants back into Turkish waters. They accuse the Greek Coast Guard of attempting to carelessly drag the boat back into Turkish waters. In the process, they say, the boat capsized in a wild winter sea. But Biliris says the men on the boat's deck all ran to one side when spotting the coast guard, overturning the boat. They say they didn't see the women and children, who were all trapped in a cabin beneath the deck.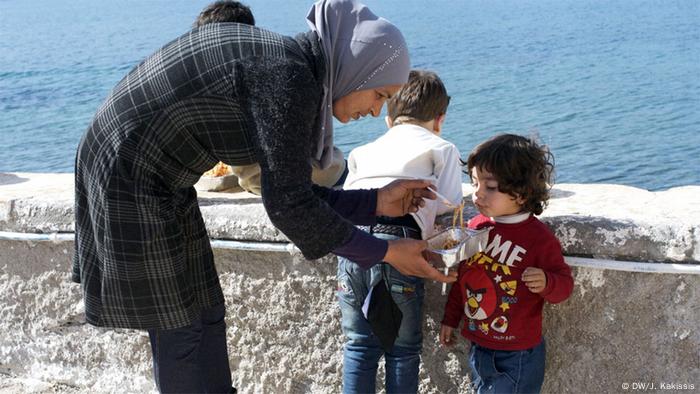 Abouras has been impressed by the Greeks helpfulness
"We did not push them back. I can say that categorically," Biliris says. "We have saved thousand of people on patrol. Why would we just lose our humanity in one day, and let people drown? Our job is to save people, always, under any and all circumstances."
Though Katsivelli insists that coast guard made huge errors that night, or may have even got pushback orders from above, she says she works well with the coast guard. "They are good people, and they want to do their best," she says. "None of us want to see another drowning tragedy like that again. We are all working to take care of the people coming to our shores."
'No future in Greece'
The migrants don't stay long on Greek islands. As soon as they get their short-term residency papers, they leave for Athens. On a recent afternoon, about 50 Syrians packed into a small travel agency near the village of Aghia Marina to buy ferry tickets. One was Latifah Abouras, the Syrian mother from Daraa.
"I know Greece has no work, so I want to go to Germany," she says, as she waits in line. "My friends from Syria already live there and they say the country has money and I can find a job." She leaves an hour later, her face full of hope.
Rozakis sighs at her story. "They are not very well informed about the way to leave Greece," he says. "The way is mainly illegal, and often very expensive and even dangerous." From Athens, migrants try to board planes for Germany and Sweden with fake passports or European Union identification cards. Some try to stow away on trucks bound for Italy in ferries. And some even try walking through the Balkans to Austria.
"Europe cannot hide this problem under the carpet," Rozakis says. "It has to face that people who are fleeing war and persecution will just keep coming here, no matter what the obstacles."