Greek Prime Minister George Papandreou's embattled government survived a vote of confidence early Wednesday, as part of its battle to gain support for fresh austerity measures.
A majority of 155 delegates gave their backing to Papandreou's Socialist government, with 143 votes against and two abstentions.
The vote is considered vital for Athens to secure a 12-billion-euro ($17 billion) installment of a 110-billion-euro loan from the EU and the International Monetary Fund (IMF). Without the package, Greece would be forced to default on its debts by mid-July.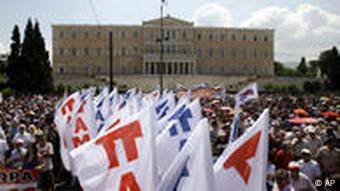 Austerity measures have led to strikes and demonstrations
Ahead of the vote, Papandreou made a cross-party appeal for agreement on the austerity measures to help the country address its financial problems.
"We invite every party to fight together for Greece," said Papandreou after a passionate address defending his administration.
"We recognize that we have to pay the price in order that things are resolved," he added. "We don't want Greece to be financially dependent upon anybody."
Protesters voice anger
The Greek parliament will now be asked to give its backing to cuts worth 28 billion euros on June 28.
New Greek Finance Minister Evangelos Venizelos said ahead of the vote that a "national recovery plan" would go further than the reforms demanded by the EU and the IMF.
Venizelos said the government would pursue "broader and faster" cutbacks than those outlined in talks with creditors - a move which is fiercely opposed by many Greek citizens.
Following demonstrations earlier in the day, more than 4,000 protesters remained outside the Greek parliament as the vote took place. Venizelos wants to go above and beyond the outlined cuts
Demonstrators chanted slogans against politicians and shone green laser lights at the parliament building.
Defending Germany's role
Meanwhile, German Chancellor Angela Merkel responded to the news on Wednesday by hailing it as an "important step" towards the country's economic recovery.
Merkel's spokesman, Steffan Seibert, confirmed that she had spoken to Prime Minister George Papandreou early on Wednesday and had encouraged him to stick to his austerity plan.
Merkel also responded to domestic criticism that she had backed down too easily on plans to include private creditors in the bailout plan.
Addressing a parliamentary foreign affairs committee, she asserted that pressure to include private creditors was "supported by only very, very few countries: the Netherlands and in part by the Finnish."
"It was an enormous success to convince France" to back Germany's proposal for private involvement, she added. A watered-down version of Germany's initial ídea was adopted by eurozone finance ministers earlier this week.
Party dissent, public opposition
Following the vote, Deutsche Welle correspondent Anthee Carassava said Papandreou would still face difficulties in ensuring that parliament passed the austerity measures, not least from his own party.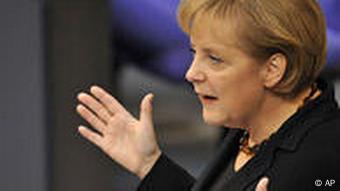 Merkel hailed Papandreou's confidence vote as a sign of recovery
"There is enormous dissent brewing within the ranks of the Socialist party," said Carassava, speaking from Athens.
Even if the legislation were passed, she said, widespread opposition would remain among a population that has become disillusioned with, and suspicious of, creditors' austerity plans.
"To a certain degree, up until now there was a sense of guilt in that the Greeks felt that they had been getting away with behavior that was not in line with Western practices," said Carassava.
"Given the fact that they did undergo a very painful course of austerity measures last year, they now feel that these measures did not produce effective results; rather that Greece is in a worse state now than it was a year ago."
Author: Charlotte Chelsom-Pill, Richard Connor (AFP, Reuters)
Editor: Susan Holton