Newly appointed Greek Finance Minister Evangelos Venizelos continued a meeting with his eurozone counterparts in Luxembourg on Monday, saying he is confident that his country's parliament will approve austerity measures needed to gain access to funds from a bailout package.
Venizelos declared, "We can achieve our targets."
The Socialist government holds the slight majority of 155 seats in the 300-seat parliament, which is to hold a vote on the austerity measures on June 28.
But international lenders are increasingly apprehensive about Greece's chances of pushing through the prescribed changes, and pressure from the European Union and the International Monetary Fund is growing on Greece. Eurozone finance ministers decided on Sunday night to delay the release of the next tranche of their bailout package until parliament approves the new austerity measures.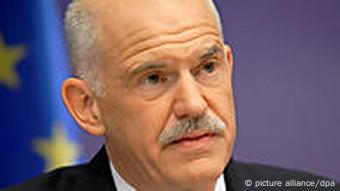 Protesters and parliamentarians are questioning Papandreou's handling of the crisis
They said the parliamentary approval must be given before Athens can receive an additional 12 billion euros ($17 billion) in emergency loans to prevent it from defaulting on its public debt. The money is part of the 110-euro bailout package the country secured last year. Greece needs the funds by mid-July to stave off insolvency.
Officials also announced a surprise trip to Athens by IMF and EU inspectors on Tuesday, which will coincide with a parliamentary vote of confidence on Prime Minister George Papandreou's new cabinet. The inspectors are expected to hold more talks with Venizelos during their visit.
Ripple effects
The continued uncertainty increased worries on the market and European stocks fell on Monday. Europe's Stoxx 50 index fell by 0.8 percent to 2,748.01.
But the euro common currency made good early falls, and ended the day only slightly down against the dollar.
"Until markets see some solid plans put in place to deal with Greece, the markets are only going to be heading in one direction," said Spreadex sales trader Simon Furlong.
Growing public protest
Despite Venizelos' promises, Greece is already facing a growing wave of nationwide public protest at the austerity measures it has implemented so far.
Greek Prime Minister George Papandreou on Sunday asked parliamentarians and political parties in his country to forge a "national accord" and back him in a confidence vote amid a debt crisis that threatens to cripple the country's economy.
"The consequences of a violent bankruptcy or exit from the euro would be immediately catastrophic for households, the banks and the country's credibility," Papandreou told parliament.

Many Greeks are angry about the austerity plans, which the EU and IMF have mandated
But Papandreou's position is fragile: opposition leader Antonis Samaras called on Sunday for his resignation and he has faced criticism from within his own party.
The union representing workers in the electricity company DEI has announced a rolling strike that could lead to power cuts. The strike is in protest over EU and IMF demands that the company be privatized.
And the protesters who have been camping in Syntagma square in central Athens for weeks say they will hold a new demonstration on Tuesday during the vote of confidence.
'Voluntary' private loans
German Finance Minister Wolfgang Schäuble has meanwhile called on private banks to take part in a second rescue package.
Speaking before the finance ministers' meeting in Luxembourg, Schäuble said the state of affairs needed "to be explained clearly enough to private lenders so that everyone has an interest in coping well with the situation."
Schaüble said that banks and insurance corporations should take part on a voluntary basis, but that "it must of course still lead to a result."
Credit rating agencies have warned that coercing banks to make loans would amount to a default for Greece - something that could precipitate a banking crisis.
Author: Timothy Jones, Holly Fox (AFP, dpa, Reuters)
Editor: Michael Lawton