The euro fell to a five-month low on Wednesday following news that European Union finance chiefs had stepped up pressure on Greece to tackle its debt crisis and crack down on its habit of reporting suspect statistics; this despite a Greek government plan to bring its record debt levels under control and reign in spending.
Greece's budget deficit is mushrooming, at 12.7 percent of its national economy. And its debt keeps growing, threatening the economic stability of the entire euro zone. The 16-nation euro was worth $1.4210 in European trading on Wednesday morning, down from the $1.4292 late Tuesday in New York.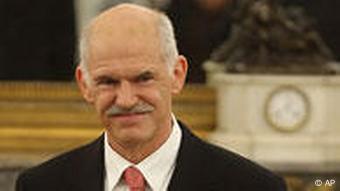 Greece's new prime minister has promised real change
However, EU finance chiefs have made it abundantly clear they are not going to bail out Greece. Arriving for talks in Brussels on Tuesday, Dutch Finance Minister Wouter Bos told reporters Greece was on its own.
"I think the Greeks are very much aware of how serious the situation is, and I think that they are also very much aware that they will in the end have to solve this problem themselves," he said.
There's been plenty of talk of sanctions or fines, but Bos dismissed the idea and said that he had confidence in the Greek government.
"The new government has only been in place for a few months now, so they need some time to create public support for some very tough measures to be taken," he added.
Keeping an eye on Greece
The tough measures proposed by Greece include an overhaul of the tax system, spending cuts, a hiring freeze on civil servants and salary caps for the highly-paid. Greece has pledged to bring its 12.7 percent budget deficit down to 8.7 percent in the first year of a three-year crackdown.
The EU's economic affairs commissioner, Joaquim Almunia, said the measures were adequate, for now, but the European Commission will study the plan intensively over the next two weeks, before deciding whether to demand changes.
He said the Commission wanted updates on how Greece was progressing every three months. And a plan is in the works to hand auditing powers to the EU's statistics office, EuroStat, which would also deploy a permanent representative to a new national statistics agency in Greece.
mrm/AP/dpa
Editor: Rob Mudge