Alexandra Tsitoura unlocks the door to a warehouse office at Hellenic Shipyards, a company founded by shipping magnate Stavros Niarchos. The workers at the shipyards used to build submarines and repair container ships.
Now, after a contractual dispute between the Greek government and the company that owns the shipyards, the place is empty.
Tsitoura, a blue-eyed 38-year-old mother of three, has worked here for nine years. She sits at her desk, decorated with drawings by her children, seashells collected by a co-worker, a half-empty can of Nescafe and an old Hitachi tape recorder.
"This is my place, my office," she says. "Two years before, I sit in this chair. I feel so strange being here now."
That's because she is one of a thousand workers at Hellenic Shipyards who haven't received a paycheck in that time. They're only employed on paper.
Another one of those workers is her 51-year-old husband, Nikos Aivatzidis. He's worked at Hellenic Shipyards for 30 years - his whole adult life. In the 1980s, the shipyards were a vibrant place - more than 6,000 people worked here. "Back then, it seemed like the most secure job in the world," Aivatzidis recalls.
He won't quit because he doesn't want to lose the severance pay he would be owed after so many years.
But should he leave, he's also facing the worst job market in half a century with three small children to support. About 28 percent of Greek workers are now jobless.
"It's very hard to get hired at this age," he says. "Greece is not like Germany, England or France, where workers are protected and the state helps you find jobs. So we only have hope that this company will open again."
Greece has a poor social safety net - no food stamps, rent subsidies and spotty unemployment insurance. Nearly 35 percent of Greeks are at risk of living in poverty, according to the Hellenic Statistical Authority (ELSTAT), the highest proportion in the European Union.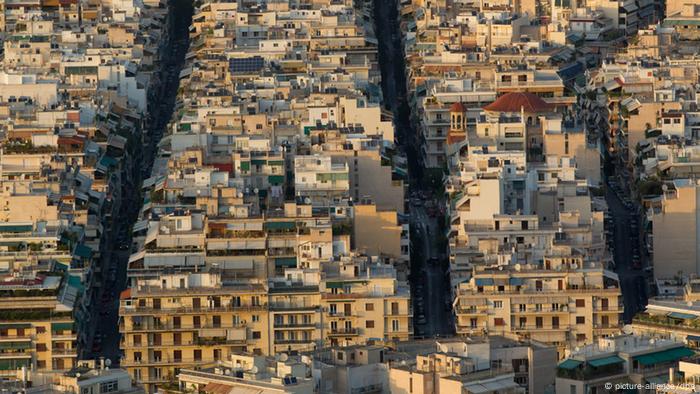 Manos Matsaganis, a professor at the Athens University of Economics and Business, estimates that there are hundreds of thousands of Greeks now who are either unemployed or unpaid - and receive virtually no income.
"How they survive is anybody's guess," Matsaganis says. "My guess is that they start drawing on past savings. Then they start borrowing left and right - from friends, relatives. Then they stop paying their bills, including mortgage or the tax bill or electricity or social insurance contributions."
'We try not to show them we're worried'
Aivatzidis and Tsitoura have done nearly all of the above. They buy groceries with the help of their parents, who share their pensions with them. Nearly two-thirds of Greek households rely on pensions to get by these days.
Aivatzidis' parents live next door and sometimes share food with them. Tsitoura's mother, Maria, lives in southern Greece and brings meat, fish and olive oil on her monthly visits. She's also helping out her son, Vassilis Tsitouras, and his family. He's an accountant, and most of his clients haven't paid him in two years. "I'm owed more than 40,000 euros ($55,000)," he says.
"Most families live this way these days," Maria Tsitoura says. "If you don't have a grandmother and grandfather, you don't have anything. Even with the little pension that we get, we help a little."
After dinner, the children of Nikos Aivatzidis and Alexandra Tsitoura - nine-year-old Fani, seven-year-old Dimitris, and two-year-old Mario - brush their teeth and get ready for bed. Alexandra washes the dishes.
"We try not to show them that we're worried," she says. "We try to give them enough so they don't feel deprived."
Keeping watch
Back at the shipyard, Nikos and Alexandra drive past two partially built submarines that are languishing in drydock.
"They are about 80 percent ready to go," says Alexandra. "Now, in the two years we haven't been working, they're ruining and rusting. Can't you see?"
The submarines cost Greek taxpayers billions and were caught in the crossfire of a massive bribery scandal. They were designed with German know-how - ThyssenKrupp Marine Systems used to run the shipyard.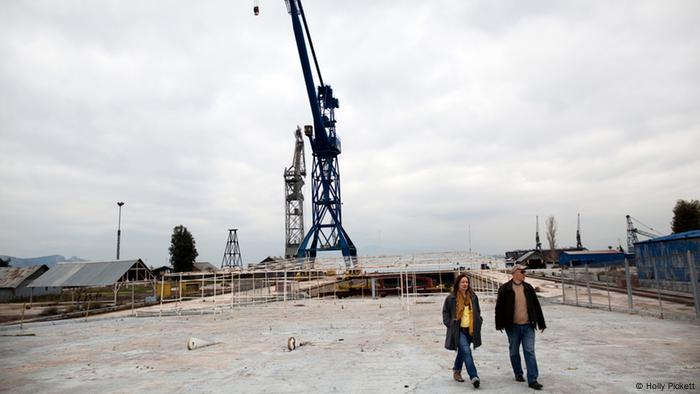 The shipyards have gone still
But it was Greeks like Panagiotis Karantzakis who helped build them.
Now, after two years without a paycheck, he's depleted his savings and is worried about supporting his wife and two children. Unlike Aivatzidis and Tsitoura, he can't rely on his parents for help.
"My dad has seven children, so who's he going to help out first?" Karantzakis says. "At least we don't have a mortgage. But the electricity, phone and grocery bills are becoming increasingly hard to pay."
Karantzakis comes to work every day to keep watch on the submarines. He sits in the cold union office, decorated with a giant photo of the shipyard teeming with workers, a sign of better times.
At least once a week, Aivatzidis drives half an hour from his home in central Athens to the shipyard and his empty human resources office. The dark hallways are lined with dead plants.
He processes the paperwork of the few workers who have quit Hellenic Shipyards, now primarily owned by Abu Dhabi Mar. Many have taken jobs abroad.
He's the only one there. When he finishes, he walks outside to his car. A group of stray dogs follow him, looking for food.
His cell phone rings to the tune of "Johnny B" by the Hooters. He glances at the number but doesn't answer.
"It's a collection agency," he says. "They usually ask me: When are you going to make a payment on your mortgage? It's a question I can't answer."