If there were a way to open the doors of all the houses currently standing empty in the European Union to all of the continent's homeless, there would no longer be any homeless. And most of the houses would still be empty.
That's according to shocking figures collated by Britain's Guardian newspaper, which suggest that there are more than 11 million vacant homes across the EU. The EU estimates the number of homeless people to be 4.1 million - which means that, in theory at least, every one of them could have more than one roof over their head.
The Guardian says that 1.8 million homes are empty in Germany. But the situation is worst in Spain, where that figure shoots up to roughly 3.4 million - 14 percent of all properties in the country. The number of empty Spanish homes has risen by more than 10 percent in the past decade. Two million houses are empty in Italy, and around 700,000 in Britain.
Portugal saw a 35 percent rise in vacant properties between the years 2001 and 2011, according to the 2011 census: more than 700,000 houses were empty there.
Property bubble aftermath
According to the newspaper, many of these houses were built during the property boom in the run-up to the financial crisis - often as investments by people who never intended to live in them.
There are a large number of vacant homes in holiday resorts in southern Europe that have never been occupied, because they couldn't be sold once the financial crisis hit. In addition, hundreds of thousands of semi-finished buildings have allegedly been demolished - as a way to raise the value of existing ones.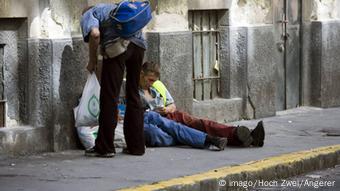 Being homeless officially became a crime in Hungary last year
Karima Delli, a French member of the European Parliament (MEP) with the Green party, said the figures were "shocking" and "indecent." "But they don't surprise me at all," she told DW. "Unfortunately, the problem of vacant houses owned by banks is very widespread, and the countries most heavily affected by the crisis, like Spain, are worst hit."
Delli is a member of the European Parliament's Employment and Social Affairs Committee. Before she joined politics, she was an activist with a group that squatted empty houses in Paris to draw the media's attention to the phenomenon. In the French capital alone there are 200,000 houses standing empty, with 2 million vacant in France overall.
MEPs: EU needs homelessness strategy
Last month, the European Parliament (EP) passed a resolution in Strasbourg demanding that the European Commission "develop an EU homelessness strategy without any further delay." The text was adopted with 349 votes to 45.
Delli criticized lawmakers in the EU's member states for having turned a blind eye to the fact that the economic crisis was leading to a housing crisis. "Homeless people look different these days," she told DW. "They're getting younger, entire families with children are affected, and there are poor workers whose wages are too low for them to afford housing with all the extra costs, especially heating, amid rising energy prices."
The EP estimates that 500,000 families in Spain have fallen victim to forced evictions during the crisis. Many of the empty Spanish properties were repossessed by banks after owners defaulted on mortgages. Under the Spanish mortgage law, holders not only had to give the house back, but also pay off bank debt. If they couldn't, upon their death it was passed on to their relatives. In March 2013, the European Court of Justice ruled that the Spanish mortgage law was incompatible with consumer protection because it doesn't provide the affected people with ways to defend themselves. "The court's decision actually means that the evictions were illegal," said Delli.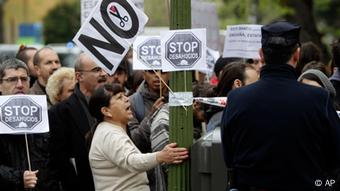 An estimated 500,000 families in Spain have been evicted from their homes by force
She hopes that the Commission will take action soon - and also follow the Parliament's call to stop discrimination of homeless people in some member states. "We managed to include a paragraph in the resolution saying that criminalizing homelessness is illegal," she pointed out. "In Hungary, homeless people have to pay fines if they sleep rough."
Fines for long vacancies
Michael Ziehl, of the German-language website Leerstandsmelder.de, believes there should be punishment for owners who leave their property lying empty for too long. "We should consider imposing fines on owners of empty houses in places where living space is rare - or possibly even impose a tax. At the moment it's the other way around: Property owners get advantages through tax breaks, etc."
Leerstandsmelder.de is a website where users can pinpoint empty houses to raise awareness. The project started in Hamburg in 2010, but has since spread to 20 cities in Germany, Austria, and Switzerland, and the number of contributors keeps growing. "The problem about empty houses is that no reliable data is available because they're not registered anywhere," Ziehl told DW. "Of course you can make estimates, and of course in theory you could collect the data. But that seems like too much effort for many city councils."
In Hamburg, there are close to 3,000 empty flats, and a much higher number of vacant office buildings. At least 1.2 million square kilometers of office space are currently empty, according to Leerstandsmelder.de. "If you do the math, it would give you space for 40,000 people," said Ziehl. "Hamburg is a growing city, which makes it attractive for real estate investors who speculate. That explains why we have so many empty office buildings."
Fundamental right
Green MEP Karima Delli believes it's high time to tackle the issue of wealthy buyers using houses as 'investment vehicles' rather than homes. "Houses are different from other commercial goods. Housing is also a fundamental right: to live in dignity," she told DW.
More investment in social housing construction is needed, she added – which, according to her, would kill two birds with one stone. "By creating non-movable jobs in the construction sector, social housing can also serve as a good instrument to get out of the crisis."