Greek and Turkish Cypriot delegations resumed UN-backed peace talks on Sunday to resolve one of the world's most intractable political problems, with issues of territory and security on the divided Mediterranean island remaining the main sticking points.
Greek Cypriot President Nicos Anastasiades and his Turkish Cypriot counterpart Mustafa Akinci are meeting under the auspices of UN special adviser on Cyprus, Espen Barth Eide. Discussions are scheduled to last for two days in the Swiss resort of Mont Pelerin after a five day meeting earlier this month that the UN said achieved "significant progress."
Both Cypriot leaders have expressed optimism that the latest round of talks that began in 2014 could yield an agreement to unite the island by the end of 2016. This would be followed by a public referendum in 2017. Four issues remain to be resolved, with territory and security representing the main hurdles.
Cyprus experienced political deadlock, instability and inter-communal violence after receiving independence from Britain in 1960. It has been divided between a Turkish north and internationally recognized Greek south since 1974, when the Turkish military intervened after a junta in Athens orchestrated a Cypriot coup to unite the island with Greece.
Inter-communal violence and the Turkish intervention displaced thousands on both sides. This has made the territorial boundaries of a future bi-communal federation and population transfers major sticking points in the talks.
The two leaders have reportedly agreed that about 29 percent of territory would be allotted to the Turkish Cypriot side of the federation. Sketching a future border around towns and villages remains to be worked out.
Redrawing borders
Redrawing the border would see communities on both sides displaced again from their current homes. For example, Anastasiades has pushed for the return of Morphou, a town currently in the Turkish-controlled north. Akinci has said he would not agree to a deal that would force 18,000 Turkish Cypriot residents in the town to be uprooted a second time in 42 years. Anastasiades has said any agreement must provide for at least 100,000 people to reclaim lost homes and property.
Each side needs to be able to return citizens to their communities with a deal that would be supported by the population. Issues of displacement have threatened to undermine approval of an agreement in a referendum.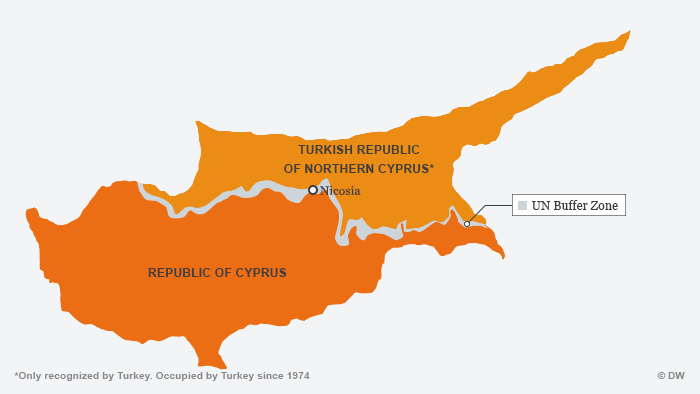 A UN-backed referendum in 2004 to reunite the island was accepted by Turkish Cypriots hoping it would allow them to join the European Union, but it was rejected by Greek Cypriots.
Island security
Another major stumbling block has been security. Turkey has about 30,000 troops stationed in northern Cyprus. This is an issue that is expected to be discussed in December with Greece, Turkey and former colonial ruler Britain.
The three outside powers were part of the 1960 Treaty of Guarantee that set political and economic rules on the island. It also provided the right for treaty members to intervene to restore the status quo.
Turkey justified its intervention as one of the Grantor Powers to protect the treaty after the Greek-manipulated coup, but violated it by effectively partitioning the island.
Turkish Cypriots want Turkey to keep its right to militarily intervention, something the Greek side rejects. The issue of Turkish troops on the island is still to be addressed.
Reaching a deal
Against this backdrop, both sides have several incentives to reach a deal. There are large deposits of gas in the eastern Mediterranean, including blocks within Cypriot territory. Turkey has vowed to block extraction if the gas is not shared with the island's northern communities.
Meanwhile, any pipeline shipping gas from Israeli gas deposits to Europe would likely cross Cyprus, Turkey and Greece. This has given Greece and Turkey an incentive to reach a deal over Cyprus.
Turkey also provides water through an undersea pipeline to the Turkish Cypriots, who have said they would share the resource with the drought-prone Greek side.
cw/jm (AFP)