Greece on Thursday deported a total of 81 people who were deemed to be economic migrants from Pakistan, Morocco, Algeria and Tunisia, according to Greece's Ministry for Citizen Protection. The migrants were taken back to Turkey, from where they had traveled illegally. In Greece they had refused to apply for asylum, having planned to journey to central Europe.
A further nine people who were to be taken back by Turkey were rejected because of problems with their paperwork. It's the second set of such deportations within a matter of days - earlier this month some 300 people, mostly from North African nations, were sent back to Turkey in accordance with a bilateral repatriation agreement dating back to 2002.
Ankara-EU deal
This week, Ankara and EU leaders agreed to work on a plan which would see Turkey take back many more migrants who traveled to Greece - even Syrians who would qualify as refugees. The aim of the EU-Ankara proposals is to remove incentives for people to use traffickers to get to Europe. The influx of more than a million migrants and refugees during the past year has strained the bloc politically, as well as in terms of its humanitarian response. So far this year about 132,000 people have made the perilous and expensive journey from Turkey to Greece on flimsy smugglers' boats.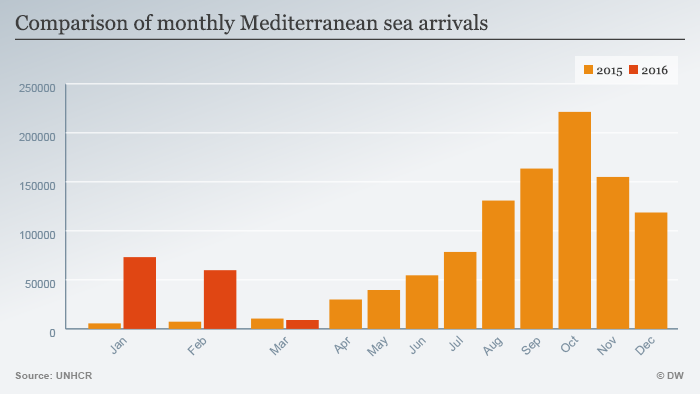 People have continued to be smuggled across the Mediterranean during winter as shown in this graph dated March 10, 2016
NATO ships on patrol
The chief of NATO, Jens Stoltenberg, said Thursday that the alliance now had five ships taking part in an unprecedented naval mission in the Aegean Sea to target people smugglers. The vessels were concentrating on the area around the island of Lesbos and aimed to "cut the lines of the illegal networks and illegal trafficking of people across the Aegean Sea," Stoltenberg said.
Nevertheless, people have still been attempting the journey, some with fatal consequences. Turkey's state-run Anadolu news agency reported on Thursday that five people, including a 3-month-old, drowned when their speedboat sank en route to the Greek island of Lesbos.
Balkan route blocked
Tens of thousands of people have been left stranded in the countries which made up the Balkan route after several nations closed their borders to transiting migrants and refugees this week. Greek authorities said no one had crossed into the former Yugoslav Republic of Macedonia this week. At least 12,000 people are stranded in wet, squalid conditions at Idomeni camp on the Greek side of the border.
More than 400 people who were the last to cross into Macedonia before the closure were being transferred to emergency shelters after spending three days in a muddy field, the UN said.
"These refugees, 90 percent of whom are Syrians, were not allowed into Serbia, but then the Macedonian authorities did not let them come back," Ljubinka Brasnarska, a spokeswoman for the UN refugee agency (UNHCR), told news agency AFP by phone.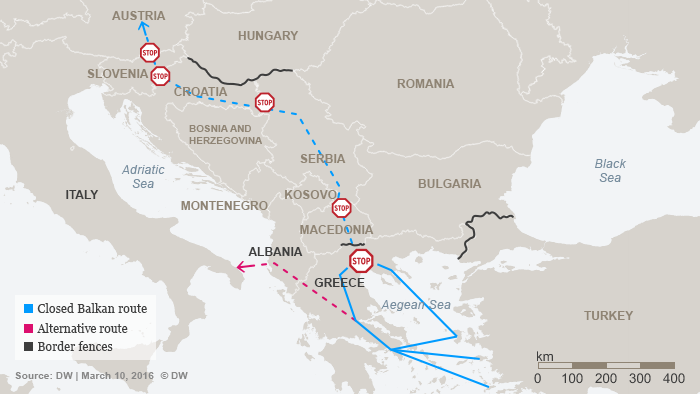 Closures along the Balkan route have left thousands stranded
Slovenia and Croatia barred entry to transiting migrants on Wednesday. Serbia indicated it would follow suit. Some 2,000 people are now stranded in Serbia, according to media reports from Belgrade. More than 400 people were stuck in Croatia. Many of those migrants had been sent back from Slovenia because they did not meet the criteria for traveling onwards to Austria and Germany.
Arrivals plummet in Austria, Germany
Since the beginning of the week not a single refugee or migrant has been registered at the Spielfeld crossing on Austria's border with Slovenia.
German Chancellor Angela Merkel, who is facing pressure domestically to reduce the number of refugee arrivals, acknowledged the Balkan route closures amounted to a drastic drop in the number of people entering Germany, but at the same time it put Athens in a very difficult position.
"If we do not manage to reach a deal with Turkey, then Greece cannot bear the burden for long," she told public broadcaster MDR.
se/ (dpa, AP, AFP, Reuters)