Dietmar Harhoff's verdict on Germany's Renewable Energy Sources Act (EEG) is crushing. "The EEG doesn't serve climate protection," the member of a government-commissioned committee on research and innovation told reporters in Berlin on Wednesday (26.02.2014).
In their annual report, Harhoff and his colleagues have called for the abolition of the EEG altogether. They concluded that the promotion of renewable energy makes electricity more expensive, and doesn't even lead to enhanced climate protection or more innovation.
Harhoff concludes that the EEG has failed as a central instrument in climate protection.
The share of renewables on the market may have increased, he said, but that has also significantly boosted prices. According to Harhoff, supporting green electricity cost 23 billion euros ($31.45 billion) in 2012. As those costs have mounted, so has the need for justification, he said, adding that green electricity can never be an end in itself.
No link between EEG and innovation?
Measured by the increase of patents and publications, Harhoff said there has also not been a significant link between the promotion of renewables and innovation. In fact, the EEG hinders innovation because the risk of investing in new technologies is not rewarded by the market. Instead, Harhoff urged a focus on emissions trading.
The Federation of German Industries (BDI) has strongly supported the committee's conclusions. "The 'produce-and-forget' logic fostered by the EEG in its present form must quickly be overcome," said director general Markus Kerber in a press statement. "The promotion of renewable energies must be shaped in such a manner that it offers incentives for competition and innovation."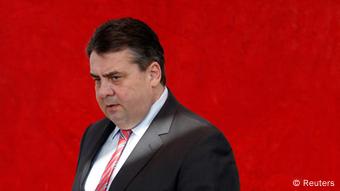 Taking a fresh look at the EEG: Sigmar Gabriel
But Eva Bulling-Schröter, the Left Party's spokeswoman for energy and climate policies, thinks that recommending the cancellation of the EEG is "absurd and incomprehensible." She said that the act has fulfilled its primary goal, which is to promote renewable energies.
The Federal Ministry of Economics and Energy has also strongly rejected the criticism of the advisory board, pointing out that when the EEG was first introduced, Germany obtained 6 percent of its energy from renewables. About 14 years later, the share of renewables in the energy mix has risen to just below 25 percent.
Within the next few months, Economy Minister Sigmar Gabriel is expected to present a reform of the EEG designed to lower consumer prices. The European Commission also has an eye on what it has called distorted competition, and has put pressure on Berlin to restructure its expansive relief measures for companies.
The government has no interest in abolishing the EEG, but has indicated that the renewables act in its present form will in future incorporate a tendering procedure. That, Chancellor Angela Merkel told the expert panel, will also "change the EEG's quality."