In Sekondi-Takoradi harbor they are waiting for the colorful fishing boats to return home. When the boats arrive, there is a bustle of activity because everybody wants to secure a share of the catch. Ten years ago the nets were brimful of fish, but those days are over. "The catch has declined drastically," said Emmanuel Nii Botchway from Ghana's Inshore Fisheries Association."Drilling for oil is driving the fish away," he explained.
Ghana's Jubilee oil field was discovered 60 kilometers (37 miles) off the coast in 2007 and is one of the biggest to be found in Africa since the millennium. Ghana has been producing oil in sizable quantities for the last four years. British and US companies pump 110,000 barrels a day from the sea bed, 85,000 of which come from the Jubilee field. The discovery of oil was supposed to be a blessing for the small West African country. Ghana was determined to learn from the mistakes of Nigeria and other oil-producing countries and would not repeat them, the government of late President John Atta Mills had promised.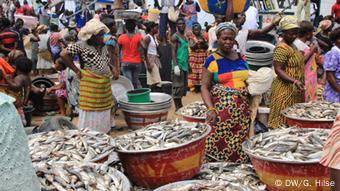 Takoradi's fish market is busy but the supply is not as plantiful as it once was.
Fishermen fear for their livelihood
According to Ghana's Revenue Management Act, all payments by the oil companies to the Ghanaian state should be made public. Three quarters of oil and gas revenues was to be allocated to the national budget, the remainder should be saved. The reality is rather different. Under the government of President John Mahama, oil and gas revenue is being channeled into projects for which it was originally not intended.
In 2013, the government passed legislation designed to secure the participation of Ghanaian firms and skills training for Ghanaian workers in the petroleum sector. But progress has been slow and the majority of Ghanaians are not profiting from the oil boom. Many fishermen in Sekondi-Takoradi even fear they will end up destitute.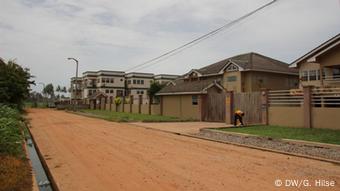 Beach Road is favored by well-heeled residents who have profited from the oil boom
Collisions at sea
Official Ghanaian statistics show that more than 2.4 million people in the coastal region depend on fishing for a living - a job that is not only at risk of disappearing, but is also becoming increasing hazardous. The coastal waters are crowded with supply ships and oil tankers, which collide with the fishing boats, especially at night when most of the fishermen are out at sea. "The boats only have small lanterns which are often extinguished by a light breeze or rain," said Botchway.
The harbor is being expanded to include new docking facilities for oil tankers. Fishing is not permitted within a radius of 500 meters (546 yards) of a drilling platform. "As there are between 40 and 50 drilling platforms off the coast of Takoradi, you can appreciate what that means for the fishermen," said Botchway, shaking his head. No fisherman has been arrested yet for entering the prohibited zones, but the navy have their own methods of drawing attention to such infractions of the law. "Some fishermen have told us hot water had been poured over them just because they had entered the area," Botchway added.
The oil boom is making its presence felt on land as well. Takoradi, once a sleepy coastal town, is turning into a metropolis, an oil city. Most of the oil companies have premises there and it is from Takoradi that the workers are taken to the drilling platforms. In the local deep water harbor, the oil is pumped in to the tankers for export.
Higher rents
Takoradi has now become one of Ghana's most expensive cities. "Life has become tougher here since oil was discovered," taxi driver Samul Kquayson told DW. Everything has become more expensive, school fees, the cost of living, and rent in particular. "The cost of renting a single room is now so high that many people have lost their homes," said Obeng Seth who has lived in Takoradi for the last ten years." Landlords want to let their property to the rich who work for the oil companies," he added.
Takoradi's deep water harbor accommodates oil tankers which ship Ghana's oil abroad
Beach Road is an up-market area which some refer to as the "Beverly Hill" of Takoradi. It is full of villas and luxury apartments. A furnished two room apartment with communal swimming pool can cost up to $ 6,000 a month (4,500 euros). Rent is payable one year in advance and only in US dollars.
Joseph Kweku Minlah works for the Ghana's inland revenue and recently bought a plot of land outside Takoradi. "As public servants we don't earn anywhere near as much as those who work in the oil industry," he said. Property prices are scaled according to the expats' salaries. "The rest of us have to borrow money to buy land," he said.
Ghana's Jubliee field is the flagship of Tullow Oil, the African-focused oil and gas producer. The company offers scholarships to young people from countries where it drills for oil. In Ghana, two local radio stations also broadcast special programs in which company representatives address the concerns of the fishing community. "These are projects with which the oil companies wish to show that they are living up to their social responsibilities," said Botchway. "But our fishing nets are still empty."