Citing concerns of voter fraud, the right-wing Alternative for Germany (AfD) party called on their members on Wednesday to pay very close attention to next week's regional elections in the states of Baden-Württemberg, Rhineland-Palatinate and Saxony-Anhalt.
Going even so far as to announce they plan to send members to certain polling stations to keep a look out, the Euroskeptic AfD has found itself once again facing intense criticism from mainstream parties.
A pamphlet circulated to party members instructs them to "look over an individual vote collector's shoulder but do not disturb them."
"We think it's sensible," said candidate Jörg Meuthen, adding that the party, which has made a name for itself in recent months due to its strong opposition to Chancellor Angela Merkel's immigration policy, had reason to believe AfD votes may be tampered with.
AfD comments cause consternation
"It is preposterous to insinuate that volunteer election helpers composed of ordinary citizens might commit electoral fraud," said the commissioner of the Baden-Württemberg state vote, Christiane Friedrich.
Wilfried Klenk, a member of Merkel's center-right Christian Democrats (CDU) and president of Baden-Württemberg's state parliament, echoed Friedrich's sentiment, reminding the AfD that their suggestion was tantamount to accusing 80,000 election helpers of being criminals.
Klenk added that he found the whole ordeal "embarrassing" for the democratic process.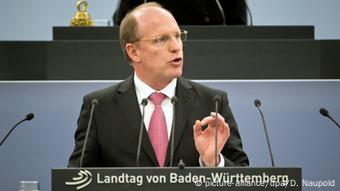 Klenk said the AfD was effectively placing a veil of mistrust on tens of thousands of their fellow citizens
Recent polls in Baden-Württemberg have revealed a great deal of fluctuation in the minds of voters with the AfD losing three points in just a matter of days. At nine percent, however, they are safely above the 5 percent threshold needed to enter parliament.
The CDU and the Greens remain neck and neck in the southwestern state, at 30.5 percent and 30 percent, respectively. While being the birthplace of the CDU, Baden-Württemberg is also a traditional stronghold for the Greens. In 2011, the Green Party ended more than 50 years of CDU dominance in the state to take control of the state legislature.
The Green Party also voiced their dismay at the AfD's proposal to its members, saying the right-wingers were "not letting the voters cast their ballots in peace."
Resurgent right
The AfD was originally founded in 2013 as an alternative to status quo politics and was focused mainly on financial conservatism until the ousting of its founder Bernd Lucke this summer. Since then, the conservative party has seen its popularity soar by voicing its criticism of Merkel's refugee policy.
The AfD is currently represented in several state legislatures and at the European Parliament in Brussels.