A member of the UNESCO project "Emergency Safeguarding of the Syrian Cultural Heritage Project" and director of Berlin's Near East Museum, Markus Hilgert sat down with DW's Gero Schliess to discuss the importance of Germany's new law protecting significant cultural works. The law, he says, was greeted with euphoria overseas.
DW: Germany's new cultural protection law was controversial. What got less attention was the part that deals with the illegal trade of archaeologically significant works from conflict areas in the Middle East. You have just held a lecture for international experts with Germany's Culture Minister Monika Grütters that addressed that subject directly. Can you estimate the impact this aspect of the law has?
Markus Hilgert: For the first time, we have a legal framework to confront the illegal trade of archaeological goods - for the new law is the first efficient implementation of the UNESCO Convention of 1970. Along with it comes the introduction of increased due diligence. For example, we now insist on an export license from the country of origin and require that the supplier in Germany conduct provenance research. What is decisive at this point though is how the law will be implemented and how German officials will be positioned to ensure due diligence.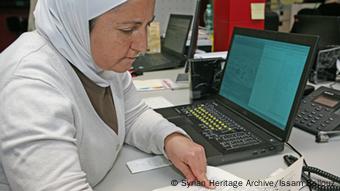 Experts are indexing Syria's cultural treasures
What do you know about the implementation thus far?
I know that customs officials have been checking goods more closely. As a whole, I know that traders and collectors are more intensively following the topic and are thinking about how they can best implement the regulations.
You have a lot of contact with international experts, including here at this event in Berlin. How have they reacted to the new law?
Our partners abroad are quite happy with it; they're practically euphoric. For one, because Germany is one of the most significant market countries for cultural goods.
Even for those illegally traded?
Even for those. In Germany, it has been possible to acquire cultural relics that do not have the appropriate export papers. It was recognized abroad that the 2007 amendment to the law protecting cultural goods in response to the UNESCO Convention had not been effectively implemented. That's why this law as it is now written has been such an important step for outside perceptions of Germany's efforts in this area. I believe that the unspeakable discussion that we have had concerning the law in Germany has overshadowed how important this law is politically and how many other countries are envious of this innovative law.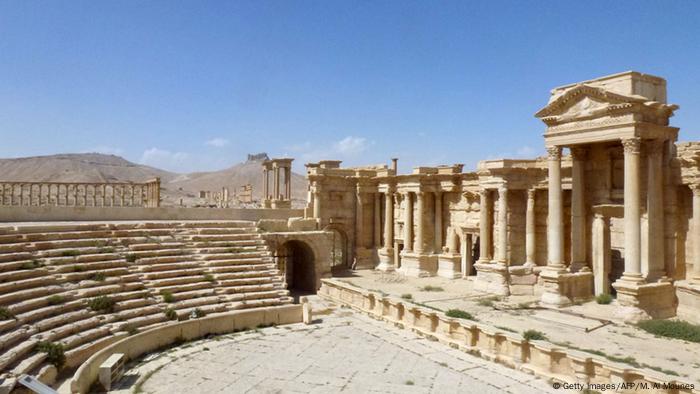 Artifacts taken from Palmyra have landed on the black market
Before the new law was agreed to, people had said that those goods which had been imported to Germany illegally should be returned to the country of origin. With this change, the country of origin needs to have presented a document approving the export ahead of time. Is that even realistic for countries in conflict, like Iraq or Syria?
Most of the countries in the world have not arranged for the export of archaeological artifacts. That's also true of Iraq and Syria. We have a ban on the export of archeological objects from both of these countries. That is also true, for instance, of several Latin American countries or the Cook Islands. In that respect, the amount of legal offers we can expect from countries like these is quite small. Archaeological artifacts are, for the most part, a largely closed collection area. Items whose legal provenance have been clarified in their country of origin and which are already on the market can be traded. New archaeological artifacts can only join them on the market when they have been legally exported from their country of origin. And that is something that is not the case in most of the UNESCO member countries.
Are the controversial elements that are being discussed then a bit of a distraction?
Yes, it is in many ways a discussion that misses the point. If we look at the countries that are being discussed, countries like Iraq, Syria, Italy, Greece, Colombia or even Myanmar, these are countries which do not provide for the legal export of archeological artifacts. That means that there is no mechanism in place for the legal export of artifacts. If, nonetheless, a government decides to allow for the export of cultural goods, then it's critical that the proper documentation from the country of origin is in place. Only then can an archeological artifact be legally imported in Germany.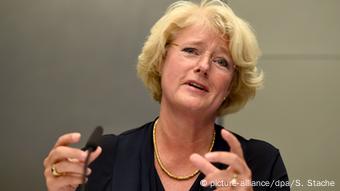 Culture Minister Monika Grütters pushed the new protection law through
Let's talk briefly about the "Islamic State," which has filled its war chest with money from looted artifacts. According to an estimate earlier this year, "IS" had controlled and plundered around 2,400 sites. But in the meantime, "IS" is on the retreat nearly everywhere. What does this mean for the illegal trade of artifacts?
That's hard to say for two reasons. For one, we don't always know exactly which culturally valuable sites are located in a country. Not everything in countries like Syria and Iraq has been adequately researched, so there can only be a broad estimate. And even in those places where "IS" no longer has the upper hand, we cannot speak of a peaceful situation in which cultural sites and artifacts are being protected. As a whole, the focus on "IS" is not very productive for coming to grips with the problem. In Iraq, for example, we've seen that the plundering of archaeological sites has been a problem for quite some time. And that has nothing to do with "IS" or other Islamist groups.
Professor Markus Hilgert is director of the Near East Museum in Berlin and an expert on cultural artifacts.