On a busy highway just outside of Atlanta, the Frankfurt Döner Kebab shop is doing brisk business selling Germany's most popular fast food.
The location, now in its second year, looks like a repurposed pizzeria or Subway sandwich shop. Inside, the dominant smell isn't of baking bread, but of sizzling lamb and beef, similar to what you'd find at a Berlin kebab stand. Unlimited refill soda machines and big American soft drink cups line one of the walls, while sunlight streams in through floor-to-ceiling windows overlooking the whirl of traffic outside. Two spits - one chicken, the other a lamb/beef combo - rotate slowly in the food preparation area.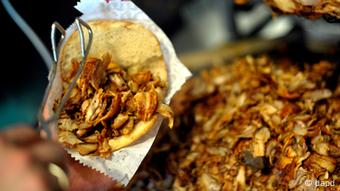 Meat comes first in this German döner too, but it tastes slightly different than its American cousin
Frankfurt Döner represents a modest but growing trend of kebab shops springing up across the United States. From Seattle to Dallas to Fort Myers, small business owners - many of them Germans who've relocated to the US - are serving American eaters the German take on a Turkish staple.
Special recipe
When I recently visited Frankfurt Döner, Karina, was preparing kebabs for two Turkish expats who live in the Atlanta area.
After shearing meat from a rotating spit and then frying it underneath, the Georgia native set about demonstrating how she makes the sandwich. First she places the meat into the bread; then she adds white and red cabbage, tomatoes, cucumbers, onions, and feta cheese. Lastly, she squirts on the sauces: tzatziki, garlic, or sesame.
As Karina wrapped the sandwiches in aluminum foil, one of the Turkish customers, Özkan, explained that the döner may be a German staple, but the idea actually comes from Turkey. He said he's noticed an uptick in the number of people opening döner shops in the US. As for Frankfurt Döner outside of Atlanta, he discovered it by chance.
"We were driving by and we saw the döner sign and thought, 'Let's try it,'" he said. "The meat isn't the same as in Turkey, but this is pretty close, and very good."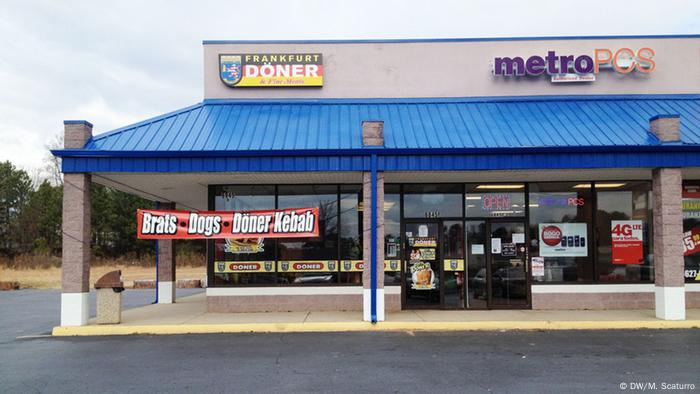 The store front is clearly American, but it's what's on the inside that counts

Cultural adaptations
The biggest difference between a Berlin street kebab and Karina's creation for the two Turkish patrons is the meat. And that's no accident: Frankfurt Döner owner Karsten Werner said he needed to modify the recipe and cooking method to suit the American palate.
"The chicken version is just like in Germany," Werner noted, "But the beef version is a little different. We basically cook it before we put it on to the grill."
Werner said Americans want their meat pre-cooked for safety reasons. The spit is essentially a decorative element used to keep the meat warm before it is fried. Another difference is the bread.
"The bread I serve is Persian bread," Werner explained. "I started out using pita bread, but switched to Persian-style bread after the customers said they preferred its lighter, fluffier taste."
Werner's brother, a butcher who works nearby, prepares the döner meat. And while a local university, Kennesaw State, is in session, Werner brings his döner to campus by means of his food truck.
The food truck
The döner food truck idea has also caught on several hundred kilometers south, in Fort Myers, Florida. That's where another Frankfurt native, Karl Rosa, offers a menu similar to Werner's, but exclusively on wheels. The King Karl Truck, as it is known, makes stops in three locations in the Cope Coral region throughout the workweek.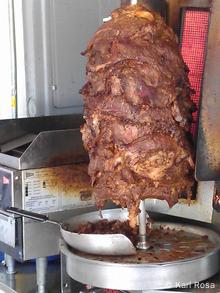 Rosa says Americans prefer spicier meat
After spending about seven years in the US, Rosa entered the kebab business this past summer. Like Werner in Georgia, Rosa felt he had a captive audience for German-style döner: retired American soldiers who had lived in Germany, Turkish immigrants, and German expats. And he, too, saw the need to tweak his recipe to suit local tastes.
"Americans like spicier meat," Rosa said, "We marinate our own meats and use more spices than you'd find in Germany."
Then there's the bread issue. After trying out a few different kinds of bread, Rosa said he decided to hire a German baker living in Florida to prepare fresh döner breads every morning.
Record setters
The undisputed king of American döner kebab cities is Austin, Texas. That's where Dominik Stein and Michael Heyne founded Verts Berlin-inspired Kebabs while studying business at the University of Texas. They opened their first store in 2009 and have since expanded to five locations citywide.
And the two young Germans have even made history in the course of their entrepreneurial adventure. In 2011, they turned a Smart car into the world's smallest food truck, winning a spot in the Guinness Book of World Records.
It's not just Germans serving up döner to a US audience. After a stay in Berlin and marriage to a German, American Victor Twu founded The Berliner Döner Kebab in Seattle in 2011.
Twu turned to the döner kebab as a way to reinvent two former Quiznos sandwich franchises. The döner idea took off, though he still has difficultly explaining to patrons the connection between Turkey and the German döner.
"I also offer a comparison to what we experience as Americans," Twu told DW. "For example, pizza was once an ethnic food but now is an American staple. Mexican food has a similar story. Tacos to Americans are like döners to Germans. That's why our restaurant is called The Berliner."