German federal prosecutors are investigating the vice-chair of Vietnam's intelligence agency for his possible role in the kidnapping of a Vietnamese businessman in Berlin, according to media reports.
Trinh Xuan Thanh was kidnapped near Berlin's Tierpark last July and secretly sent back to Vietnam, where he has been sentenced to two life sentences for embezzling assets during his time as the head of Vietnam's state-owned oil company.
According to the Süddeutsche Zeitung and German public broadcasters, federal prosecutors are investigating top Vietnamese spymaster Duong Minh Hung in connection with the abduction.
Duong is reportedly under suspicion for coordinating the kidnapping and was in Berlin for several days around the time of the brazen act.
Read more: Berlin bloggers fear the long arm of Hanoi
Germany expels second Vietnamese diplomat for involvement in alleged kidnapping
A spokesperson from the Karlsruhe-based prosecutor's office did not comment on the report.
Charges filed
Last week, prosecutors filed charges against one suspect, who among other things is accused of renting a van in Prague used in the abduction. He is charged with intelligence-related activity and deprivation of liberty.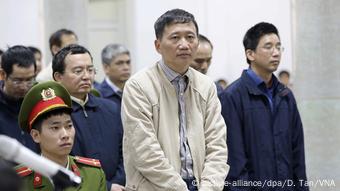 Vietnamese courts have sentenced Trinh Xuan Thanh to two life sentences
Thanh fled to German in 2016 and received asylum. In Vietnam, he was accused of embezzlement as head of state-own PetroVietnam.
According to the indictment, several men forced Thanh into a vehicle near the government quarter in Berlin and he was taken to the Vietnamese embassy. From there he was secretly sent back to Vietnam.
The incident has caused a major crisis between Berlin and Hanoi.
cw/rc (AFP)