Germany sharply rebuked Italy over the weekend over its decision to grant thousands of Tunisian economic migrants temporary travel visas, allowing them to leave Italy for other European countries in the border-free Schengen Area.
Interior Minister Hans-Peter Friedrich told the Monday edition of newspaper Welt that Italy had to "regulate its own problems" and not force them on other countries.
Together with Cyprus and Malta, which have also been inundated by the recent wave of North African migrants fleeing instability in the region, Italy wants to activate a clause in EU law dating back to 2001 that would see the refugee burden shared among the EU member states.
As it stands, refugees must remain in the European country of their arrival while their claims for asylum are being processed. Some 25,000 North African refugees have landed on the Italian island of Lampedusa, located between Sicily and Tunisia, since the start of this year.
But Friedrich argued against using the clause, which he said was originally created to accommodate the influx of migrants in the wake of conflict in the former Yugoslavia.
Border control threat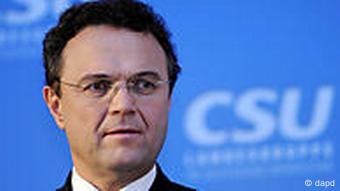 Hans-Peter Friedrich wants Italy to accommodate the thousands of refugees
Meanwhile, the interior minister of the southern German state of Bavaria, Joachim Herrmann, has said border controls on the German-Austrian border could be reinstated in a last-ditch effort to prevent the migrants from entering Germany.
In an interview with newspaper Welt am Sonntag, Herrmann called on Italy to get its house in order without resorting to issuing temporary visas.
"We will not accept that the Italian government simply declares that the Tunisian migrants are tourists and uses this to push them into other countries," he said.
Herrmann conceded that the move would impact relations between Italy and Germany, and called for a common EU stance on economic migration.
"They must be sent back to their homelands," Herrmann added.
Boris Rhein, Herrmann's counterpart in the neighboring state of Hesse, told Welt that if Italy went ahead with issuing the temporary visas, "it would be necessary to consider whether the [visa-free travel] Schengen Area should be temporarily abolished in Germany."
Germany admonished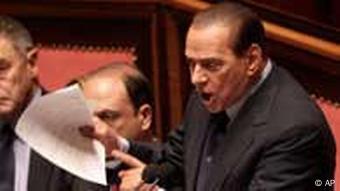 Berlusconi wants EU countries to help with the refugee burden
As German politicians criticized Rome over its refugee policy, a top official with the Catholic Church has slammed Germany's refusal to take in some of the thousands of Tunisian migrants currently in Italy.
"I'm astonished by the position of closure adopted by my country," German-born Cardinal Walter Kasper said in an interview with Turin-based daily La Stampa on Sunday.
"I grew up in a Germany destroyed by the [Second World] War, but which still knew how to welcome masses of displaced persons and to give a home to entire populations who were fleeing from misery and despair," the 78-year-old Kasper said.
Italian premier Silvio Berlusconi commented this week when visiting Lampedusa that the refugee crisis was akin to a "human tsunami" and called on the EU for assistance.
"Either Europe is something real and concrete, or it is nothing," Berlusconi said. "If the latter is the case, it would be better if we all went out own ways and each determined our own politics and allowed selfishness to follow."
The matter is to be discussed by EU justice and interior ministers in Luxembourg on Monday.
Author: Darren Mara (AFP, dpa)
Editor: Toma Tasovac