In a foreign policy speech in Hamburg on Monday, Steinmeier announced that Germany would campaign for a non-permanent seat in 2019 and 2020. The country last held a Security Council seat from 2011 to 2012.
Diplomats will seek support for Germany's candidacy before an election is held in mid 2018. Germany's application would require approval from at least two thirds of the 193 states in the UN General Assembly to be successful.
Steinmeier said the UN and the Security Council were needed "more than ever" in efforts to achieve peace in the world. Despite all its faults, the Security Council remains the only body that can decide internationally binding measures, he said.
But he also used his speech to once again criticize the UN body as out of date, vowing to seek further reform - along with India, Brazil and Japan.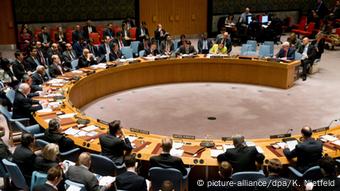 Germany has long called for a permanent Security Council seat
Reform is overdue
One of the principal parts of the United Nations, the Security Council is made up of the five permanent seats - held by the US, Russia, Britain, France and China - the great powers that emerged from the end of World War Two. Ten other states sit on the Security Council for two years each, including two seats reserved for Western European countries.
Germany is the third largest contributor to UN regular budgets after Japan and the US and has long argued for a permanent Security Council seat, saying the body needed to reflect the world in the 21st century. But efforts have stalled in recent years over disputes over how the Council should be reformed.
If selected to sit again from 2019, it would be the fourth time a reunified Germany had been elected to the Security Council as a non-permanent member.
mm/jm (AFP, dpa, Reuters)