Gabriel, who is also the German economy minister, said on Monday the demand renewed by Greek Prime Minister Alexis Tsipras had "zero" probably of being met.
Tsipras on Sunday ruled out an extension of an international 240-billion-euro ($271 billion) bailout and vowed to press damages for four years of occupation by Nazi German troops from 1940 to 1944.
Many Greeks blame present-day Germany for bailout austerities. Some sources in Athens put World War II reparations still owed by Germany at 162 billion euros ($183 billion).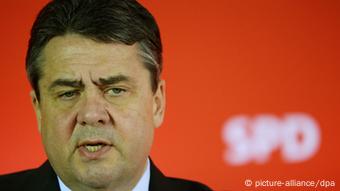 Reparations were concluded in the 1950s, said Gabriel
A line had been drawn on reparation "at the latest," said Gabriel, when the two former Germanys signed the so-called "Two plus Four Treaty" with the Allies in 1990 just prior to German reunification.
"There is no sense continuing down this road," he added.
Gabriel was speaking on the fringe of a meeting of senior members of his Social Democratic Party (SPD) at Nauen, near Berlin.
Reparations arranged in late 1950s
In 1960, 115 million deutschmarks were paid to Greece, representing one of 12 German war compensation deals signed with Western nations in the late 1950s.
German opposition Left party parliamentarian Ulla Jelpke told Potsdam's daily newspaper Märkische Allgemeine Zeitung, however, that a wartime loan forced on the-then occupied Greece by the Nazis must be paid back.
Athens has previously said that its receipt in 1960 was an initial payment, with the rest of its claims to be discussed after German reunification, which came in 1990.
ipj/cmk (Reuters, AFP, dpa)