Speaking on German television Friday morning, German Foreign Minister Guido Westerwelle urged the international community to implement tough sanctions against Syrian President Bashar al-Assad for his violent crackdown on anti-government demonstrations.
"We strongly condemn in all severity the violence against one's own people," Westerwelle told the ARD morning news program, Morgenmagazin.
European Union ambassadors in Brussels are slated to discuss a joint EU reaction to the escalating violence against peaceful demonstrators in Syria at a meeting Friday afternoon.
A push by the EU to condemn Syria in a United Nations resolution failed in the Security Council on Thursday.
Clear response needed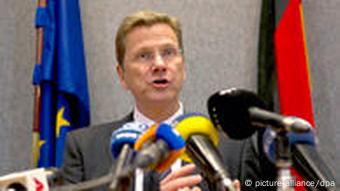 German foreign minister condemns violence in Syria
Westerwelle stressed that it was important that the international community now speak with one voice.
"We Europeans will be implementing sanctions," he said.
The chairman of the foreign affairs committee in the German parliament, Ruprecht Polenz, also called for "targeted sanctions" and a "clear response" to Assad.
"I am for clearly showing Syria that what they are doing in unacceptable," he said.
Polenz raised the prospect of sanctions aimed at travel restrictions for members of the Syrian regime, the freezing of assets, a weapons embargo and political isolation.
Westerwelle said "political solutions are the solutions with the most far-reaching effects."
Meanwhile, Human Rights Watch on Friday called for the United Nations Human Rights Council to investigate the deadly crackdown on protesters in Syria.
"Syria's President Bashar al-Assad needs to hear an unequivocal message from the Human rights Council that violent suppression of peaceful protests is unacceptable and will have consequences," said Julie de Rivero, the HRW Geneva office director.
Author: Gregg Benzow (dpa, AFP, AP, Reuters)
Editor: Sean Sinico