Interior Minister Thomas de Maiziere wants to test video surveillance with facial recognition software in Germany's train stations, a leaked parliamentary document has revealed. The technology is part of a wider plan to expand video surveillance across public spaces in Germany that was revealed on Wednesday in a draft law that the cabinet intends to rubberstamp in November.
Answering an official information request from the Green party that was shown to the "Handelsblatt" newspaper, the ministry admitted it was currently in talks with the federal police and rail operator Deutsche Bahn "to test the use of intelligent video analysis technology in one pilot train station."
But the ministry added that it could not yet say when the scheme would begin, or what the "implementation possibilities of these systems" are.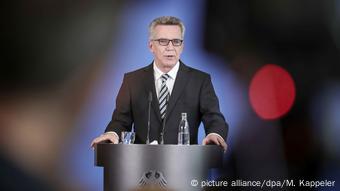 De Maiziere wants the cabinet to rubberstamp his draft law in November
A denser network
De Maiziere indicated in August that German security forces would start using facial recognition technology to find terrorist suspects. "Private citizens are able to photograph someone and then use facial recognition software to find out on the internet whether they've just seen a celebrity or a politician," he told the "Bild am Sonntag" newspaper. "I would like to use that kind of facial recognition software in video cameras in airports and train stations."
Video surveillance technology has long since been able to do much more than simply record what the camera sees. According to Privacy International, cameras are now able to transmit images to computers which can then read biometric data to profile, sort and identify people through facial recognition software.
Security company brochures posted on Privacy International's website advertise systems that can track specific faces as they move through public spaces, and "operators can set notifications for when a facial profile group is detected or enters a predetermined zone."
According to German data privacy lawyer Christian Solmecke, facial recognition represents a "massive invasion on the right to informational self-determination, and there is simply no legal basis for its use."
He said that the interior minister's plans would entail recording every single face and matching it with all the pictures from a database. "This raises the question on what data this kind of facial recognition system would be based and what data would be stored," he told DW.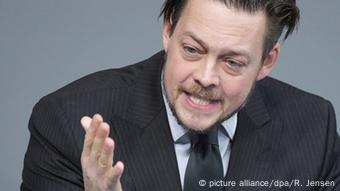 Von Notz dismissed the plans as a "placebo"
According to Solmecke, there is a major legal difference between a database of people currently being sought for specific crimes and databases that merely carry the information of general "suspects" - the latter, he said, often contain profiles of innocent people.
"The constant scanning and matching of faces would be a step towards total surveillance and citizens would no longer know when and where they were being scanned," he said, before adding that any law that allowed this to happen would violate the German constitution.
The German government has said it does not currently have facial imagery databases to be used for such technology, but does not rule out setting them up. At the moment, the federal police have access to around 6,400 cameras belonging to Deutsche Bahn, as well as 1,730 cameras at Germany's five largest airports.
De Maiziere's new draft law, revealed by the "Ruhr Nachrichten" newspaper on Wednesday, also includes plans to increase surveillance especially in privately-run public areas, such as shopping malls, sports venues, and car parks.
A placebo?
The draft mentions recent violent incidents in Germany - specifically a shooting spree in Munich and a bombing in Ansbach, which happened within days of each other in July - as the main justification for the new measures. But opposition politicians say that video surveillance is being sold as an easy solution whose security benefits are "highly doubtful."
"This is hardly any more than a placebo to keep the public calm," said Konstantin von Notz, Green party deputy parliamentary leader, in a statement. "Video surveillance can help to investigate crimes in retrospect, but the technology can't prevent crimes. Only good police work can do that."
He added that these measures only "create more dangers for basic rights" - especially in the case of so-called "intelligent video technology."
The Interior Ministry acknowledged that there may be legal obstacles to overcome, but, in its answer to the Green party, argued that "to what extent the potential use of intelligent video surveillance systems will require a constitutional re-assessment, depends, as far as the government is concerned, on the configuration and actual use of that technology."
The Social Democratic Party, center-left junior coalition partner to de Maiziere's conservative Christian Democratic Union, has already indicated that it does not see a problem with using facial recognition technology, which suggests that the measures would have an easy passage through the Bundestag. But since installing video cameras in public areas comes under the jurisdiction of the states, rather than the federal government, de Maiziere may yet encounter opposition.