Berlin's relations with some of its main partners in the Middle East were under critical scrutiny on Tuesday after a leaked intelligence report linked the governments of Saudi Arabia, Kuwait and Qatar with Salafist movements in Germany.
It has long been suspected that states in the Middle East support the missionary efforts of Islamic fundamentalists. This report, carried out by Germany's domestic and foreign spy agencies on behalf of the German government, is noteworthy in that it names three Salafist organizations it says are "closely connected with government offices in their home countries." The report added that "global proselytizing" remains part of Saudia Arabia's "reason of state" and an integral part of Saudi foreign policy. The report predicts that Salafist organizations will "continue to expand their activities in Europe and Germany."
Germany's foreign intelligence agency, the BND, declined to confirm the accuracy of the leaked excerpts or give any further details from the report, saying that it only provided information to the government. But experts say that the warning about state-sponsored Salafism should be taken seriously.
"I think these reports are credible," Sebastian Sons from the think tank German Council on Foreign Relations told Deutsche Welle. "It's well known that for decades Saudi Arabia has been launching missionary initiatives throughout the world, both by using private foundations and by sending clergymen abroad. Saudi Arabia wants to present itself as the leader of the Sunni Islamic world."
The report says that it's impossible to distinguish between missionary work and support for jihadist violence in one of the organizations, the Kuwaiti Revival of Islamic Heritage Society. The latest estimates put the number of Salafists in Germany at slightly below 10,000 - politicians agree that they represent a potential risk.
"The danger is real and shouldn't be underestimated," says Social Democratic Member of Parliament and Middle East expert Rolf Mützenich. "For quite some time we've had indications and evidence that German Salafists are getting assistance, which is approved by the governments of Saudi Arabia, Qatar and Kuwait, in the form of money, the sending of imams and the building of Koran schools and mosques."
And there's one group some observers fear could be particularly susceptible to radicalization:
Worries about refugees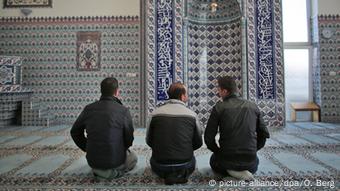 The majority of refugees to Germany are Muslims
Germany took in some 900,000 refugees from crisis regions, most prominently Syria, in 2015, and if significant numbers of them grow frustrated, they could represent potentially fertile ground for Islamic fundamentalism. Insiders say that Syrian refugees are sometimes surprised at how conservatively Islam is interpreted by some imams in Germany.
"The danger exists, and we need to vigorously counteract it," Mützenich told Deutsche Welle. "The best way of preventing refugees from being radicalized is speedy and successful integration. To achieve that we need professional prevention and de-radicalization programs. Concretely that means more money and resources for specialists in schools, government administration, police, youth welfare organizations, prisons and reform schools."
The Saudi Arabian royal family has been allied with Wahhabism, the Saudi form of Salafism, since the late 18th century. But although the German intelligence report concludes that support for missionary movements is part of a long-term foreign policy strategy of Saudi Arabia, Sons doesn't think that Riyadh particularly has its sights set on Germany.
"While we shouldn't underestimate the Saudi influence, I don't believe that Germany is the primary target of Wahhabist proselytizing," the Middle East expert said. "In the past that was always the Islamic world, in Asia, in the Balkans and in Africa. And I think those are the areas where this will prove increasingly relevant in the future."
The BND, however, has been tracking what it calls growing Saudi "interventionism" since the beginning of the year. And the leaked report is increasing pressure on the German government to counteract it.
A well-timed leak
Relations are cozy between the Saudi royal family and German defense ministry
Berlin has never been keen about attempts from within Saudi Arabia to promote Islamic fundamentalism in Germany, and many people object to Germany providing weapons to Middle East allies with questionable records on democracy and human rights.
Could the two issues become linked in the wake of the leaked report?
"The German government and the Foreign Ministry have called upon the governments in question to stop their support [for German salafists]," Mützenich says. "In this context, the concrete question arises as to whether we should keep supplying arms to these countries and other crisis regions. I think the German government should send a clear signal."
Indeed, sources within the security community, who asked not to be named, think that the timing of the leak may be anything but accidental. Opposition to Germany providing Saudi Arabia with weapons seems to be growing within the intelligence community, and perhaps releasing parts of the report is an attempt to force the hand of politicians in Berlin.
Sons, too, thinks the time may have come for an arms embargo.
"The government has to show that it has a clear strategy for how to deal with a difficult partner like Saudi Arabia," Sons says. "In my eyes, weapons shipments should be off the table. And on state visits, it's important to raise the topics of human rights and Wahhabist proselytizing."
All the same, there is little chance that Berlin will risk complete estrangement from a powerful ally in the Middle East.
"We can't forget that Saudi Arabia is the most important Arab force in the region," Sons added. "There's no way we can do without this country, whether we like it or not."