The atmosphere inside Berlin's central cathedral had a solemn air on Tuesday: Statues of angels peered down from the towering, gold-bedecked ceilings as worshipers silently filed up to the flag-covered coffin that holds the remains of Roman Herzog, Germany's ceremonial head of state from 1994 to 1999.
Yet, as family, friends and dignitaries gathered to pay their last respects to Herzog inside the cathedral, which had been widely cordoned off by police by midday, several of the speakers recalled his biting self-irony and sense of humor.
Indeed, there was even a brief moment of merriment, when current President Joachim Gauck recalled his predecessor's Bavarian accent. "He used to say: 'When I open my mouth, people think they're on holiday,'" Gauck said.
For a few seconds, laughter and giggles reverberated through the packed cathedral.
Gauck recalled a president who found "unusually clear words" and encouraged Germans to "embark upon new paths." He described a man with a "secure political compass" and an acute sense of social developments: Herzog, Gauck said, had warned that entrenched views could paralyze society. It was a statement, Gauck added, that had real relevance today.
Herzog, Gauck said, "was a present for our country."
'Extraordinary,' 'bold'
Roman Herzog, who was born in the Bavarian city of Landshut in 1934, had initially embarked upon an academic career. He was elected a judge on Germany's constitutional Court in the early 1980s, and served as chief justice on the court's panel from 1987 to 1994.
In 1994, Herzog, a member of the conservative Christian Democratic Union, was elected as Germany's first president following reunification. EU Council President Donald Tusk recalled Herzog's first foreign trip, which took him to Poland in 1994 to commemorate the 50th anniversary of the Warsaw uprising against the Nazi occupation.
At first, "not everyone in Poland accepted the participation of a German president in such a place", said Tusk, a former Polish prime minister.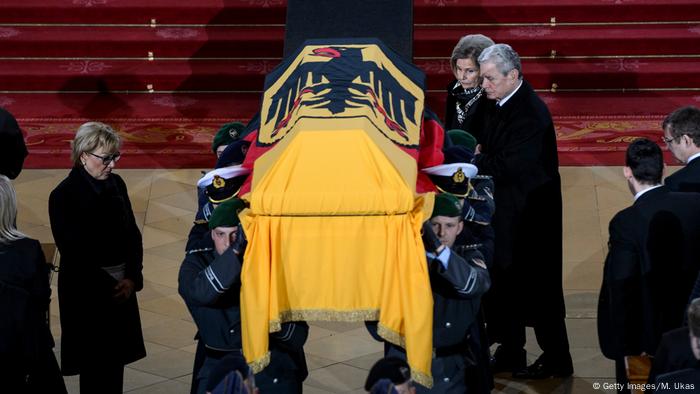 Herzog died on January 10 at the age of 82
But in what Tusk termed an "extraordinary" and "bold" speech, Herzog apologized for war crimes committed by the Nazis.
"I ask for your forgiveness for all that was done to you by Germany," Herzog said in Warsaw.
Establishing Holocaust Memorial Day
Herzog also established January 27, the day that the Auschwitz death camp was liberated, as Holocaust Memorial Day. Ever since, Germany commemorates the Nazi extermination campaign which targeted countless Jews, homosexuals, Roma, Sinti and many others.
As a committed European, Herzog belonged to a generation that still had a living memory of Germany's past, and as such "knew how high the stakes are," Tusk said.
Tusk made reference to Herzog's most famous speech in 1997, when, amidst an economic crisis, he warned Germans that they had become too dependent on the state. Germany was in need of a "jolt," meaning the country had to face up to much-needed reforms, but also renew hope and self-reliance.
The speech, Tusk said, was still relevant, as Europe faced political and economic uncertainty at home and abroad. Europeans, he added, yet again needed such a "jolt."
After the ceremony, the guests slowly followed the military guard bearing the coffin out of the cathedral.