Roman Herzog had a difficult start to his presidency: The Federal Assembly, which convenes for the sole purpose of electing Germany's ceremonial head-of-state, only confirmed his election after three rounds of balloting.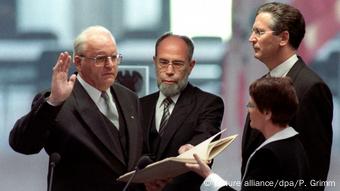 Roman Herzog was sworn into office on July 1, 1994, succeeding two-term President Richard von Weizsäcker
Furthermore, he was only a second-choice candidate for the ruling Christian Democrats (CDU), who had originally wanted to send Saxony's Justice Minister Steffen Heitmann in. Heitmann was disqualified after making contentious remarks regarding the German role in the Holocaust.
Despite these initial difficulties, Herzog immediately started to turn the tables on those who opposed him.
"I will try my best to lead this administration in such a way that you will regret not having given me your vote," he said upon his election, setting the tone for his leadership.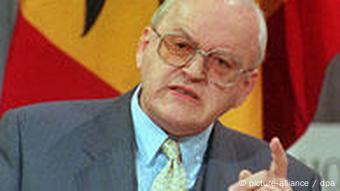 Herzog is remembered for his speech, demanding for a reviving "jolt" to push through Germany during years of economic stagnation in the 1990s
Dedication to law and justice
Herzog was born in the Bavarian city of Landshut in 1934 and followed an academic career path at first. He joined the CDU in 1970, becoming an active politician three years later.
Herzog was later elected a judge at Germany's Constitutional Court, serving from 1983 to 1987. He was chief justice on the court's panel from 1987 to 1994, prior to becoming Germany's seventh president.
Roman Herzog is survived by his second wife, Alexandra; his first wife, Christiane Herzog (nee Krauss) died in 2000. The couple have two sons.
Reactions from Germany's political elite
Herzog's entire political career was devoted to ensuring the rule of law and the prevalence of justice in Germany, for which he was respected in Germany and beyond.
Incumbent German President Joachim Gauck paid tribute to Roman Herzog, saying he was a "distinctive personality" with "forward-looking courage."
"With expertise, wisdom and drawing on enormous experience of life, he stood up for our country and its free constitution," Gauck added.
German Chancellor Angela Merkel meanwhile said that Germany had lost a "highly beloved former president," whose leadership had been epitomized by his "very own, inimitable style." Merkel added that Roman Herzog spoke openly, was "unpretentious, full of humor and didn't take himself too seriously."
The German Foreign Office meanwhile shared a statement by Foreign Minister Frank-Walter Steinmeier, saying that Herzog was a "great constitutionalist, politician and statesman."
Acceptance of Germany's guilt
Roman Herzog was venerated abroad, as he dared to squarely approach Germany's history during World War II. In 1994, he apologized for war crimes committed by Nazi Germany during a public ceremony marking the 50th anniversary of the Warsaw uprising: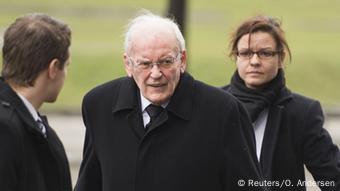 One of Roman Herzog's last major public appearances was for the funeral for his predecessor Richard von Weizsäcker in February 2015
"I ask for your forgiveness for all that was done to you by Germany," he said in Warsaw on August 1, 1994, attracting positive reactions from Poland and the rest of the world. Herzog continued to stress the importance of remembering Germany's history. Garnering support from all political parties, he established January 27 as Holocaust Memorial Day; the Auschwitz death camp had been liberated on this date in 1945.
Roman Herzog told DW in an interview in May 1999 that his and Germany's reputation abroad was of particular importance to him:
"I've always put a firm emphasis on that, and in most instances, I've managed to succeed," he said at the time. Herzog was known for making sober, to-the-point remarks but remained modest at heart throughout his presidency.
No beating around the bush
Herzog is most succinctly remembered for a speech he held on April 26, 1996, as Germany was suffering economic decline five years into its reunification: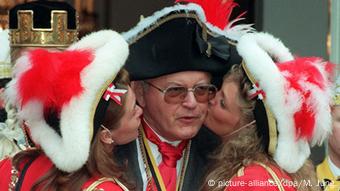 Though born in Bavaria, Roman Herzog adopted many customs of the Rhineland, such as "Karneval" (pictured), where he was politician and state representative for many years
"Durch Deutschland muss ein Ruck gehen," he said, which roughly translated as "Germany needs a jolt to push through it," meaning a renewal of hope and self-reliance in the face of growing activity on the Asian markets at the time.
"We have to part with a certain level of affluence which we cherish and take for granted. Everyone has to make sacrifices," Herzog said, referring one by one to the economic downturn and general sense of depression at the time.
"Those who want to delay or prevent major reforms need to be aware that our nation will pay a high price for this."
Herzog served as Germany's president for a single term from 1994 to 1999. Upon leaving office, he remarked that there was no need for him to leave behind a legacy of note: "I'm merely retiring from office and not retiring from life," he said at the time.